The last Housing Market Review covered data reported in May, 2017 for April, 2017. At that time, the iShares US Home Construction (ITB) was testing support at its uptrending 50-day moving average (DMA) for the third time in May. ITB bounced nicely from there, but it just suffered its second largest one-day loss of the year. Only the 2.3% one-day loss on May 17, 2017 surpassed the 1.9% loss on June 29th.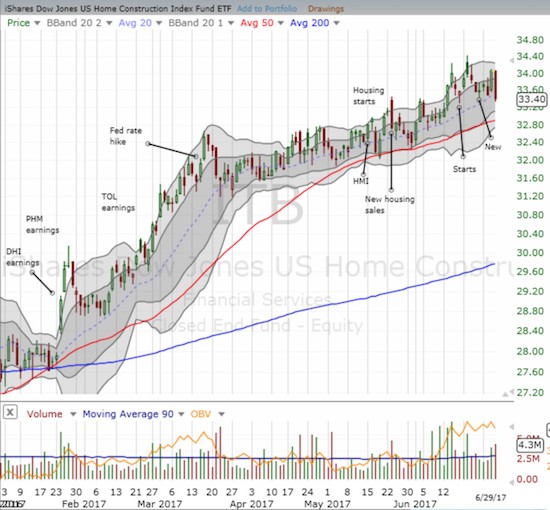 The good news is that ITB recovered quickly from May's loss. The bad news is that the end of the seasonally strong period for home builder stocks means that it will likely be much harder for ITB to overcome this latest headwind.
I am assuming a big driver of the sudden loss was a combination of a large sell-off in the general market – the S&P 500 (SPY) lost 0.9% and at one point was down 1.4% – and a sudden spike in long-term interest rates. For example, the iShares 20+ Year Treasury Bond (TLT) lost 0.8% after bouncing back slightly from a large gap down (TLT declines when rates increase and vice versa).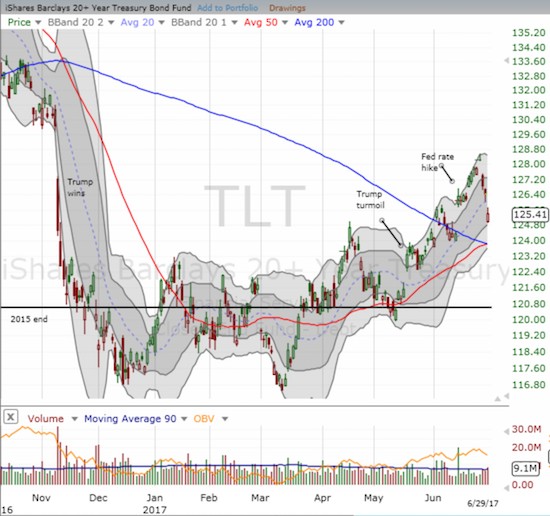 I have recently accumulated call options on TLT simply because of its recent uptrend despite the Fed rate hikes and the official acknowledgement that the Fed's balance sheet will soon start shrinking. If rates actually start trending upward again, I have to assume that ITB will have an even harder time gaining ground on top of the end of the seasonal tailwind.
The housing data was overall more of the same. While housing starts spooked some housing pundits, strong new and existing home sales quickly put to rest the notion that the housing market was right on the edge of a cliff. Watching the headlines play out reminded me that when it comes to the housing market, an on-going tension exists where too many are looking for even the slightest hint that the entire market is about to collapse overnight…one more legacy of the massive housing bubble and crash from the last cycle.
New Residential Construction (Housing Starts) – May, 2017
"We need more home construction." This was the plea from the National Association of Realtors (NAR) during . Unfortunately, home builders went in the opposite direction for a third month in a row.
Single-family housing starts for April were revised downward from 835,000 to 826,000. Still, May starts declined month-over-month by 3.9% to 794,000. This change did not break the on-going uptrend, but it still caused a lot of consternation by pundits given it was the third monthly decline. Yet, on an annual basis, single-family housing starts increased a healthy 8.5%. This is a small decline from last month's year-over year gain of 8.8%. The previous year-over-year increases were 11.1% in January, 13.5% in February, and 9.3% in March.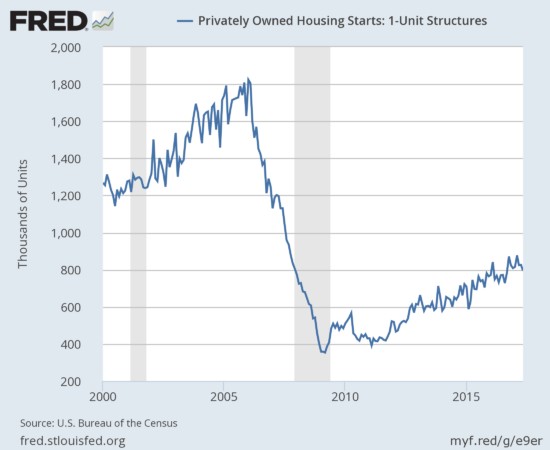 Across the regions starts varied widely for a third month in a row with the Midwest and the West contributing large surges of 29.0% and 22.2% year-over-year respectively. The Northeast cooled for a second month in a row with a 3.6% decrease. The South barely budged with a 0.5% decrease.
Existing Home Sales – May, 2017
For January, existing home sales returned to gains and hit levels not seen since February, 2007. For February, existing home sales dropped sharply from the previous month's post-recession high and served up a reminder of the month-to-month volatility in this series. For March, existing home sales made a sharp rebound and set a new post-recession high (the highest in over 10 years). For April, the yo-yo bounced down slightly, and in May it bounced up slightly. On cue, the NAR switched to explaining the uptick in sales:
"The job market in most of the country is healthy and the recent downward trend in mortgage rates continues to keep buyer interest at a robust level…Listings in the affordable price range are scarce, homes are coming off the market at an extremely fast pace and the prevalence of multiple offers in some markets are pushing prices higher."
The seasonally adjusted annualized sales of 5.62M were up 1.1% month-over-month from a marginally downwardly revised 5.56M (from 5.57M) in sales for April. Year-over-year sales still increased 2.7% (compare to November's 15.4% year-over-year pop, December's 0.7% increase, January's 3.8% rise, February's 5.4% increase, March's 5.9% gain, and April's 1.6% increase). February sales dropped to levels...
More