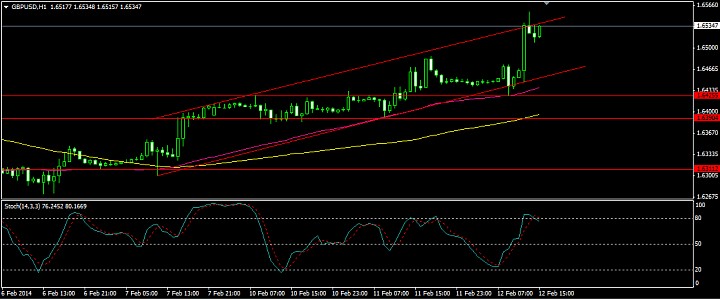 GBP/USD showed some gains today after Bank of England Governor Mark Carney released the inflation report and updated the forecast for economic growth this year. Carney said that the recovery has gained momentum in the economy. 
--  Output is now growing at the fastest rate since 2007,

 -- Jobs are being created at the fastest pace, and 

--  Target inflation rate is back at 2% after four years. 
All of these developments will reduce import inflation pressures that was the main reason for the above target inflation over the past five years. 
The BOE in its forward guidance said that it intends to maintain the asset purchase program until the first rise in bank rate and mentioned the conditions that would have to be met before the bank will think about raising Bank Rate.
 The conditions are : Inflation rate is within the target and there is no spare capacity gap particularly in labor market over the next few years. And after these conditions are achieved,the bank will go with gradual and limited rate increase. So we can expect the Bank rate to stay at low levels for some time to come.
 On the 1 hour chart, the pair seems like following upward channel trend. Also the 50 day moving average is above the 100 day moving average and acting as a support for the pair. We can see that it provided support to the pair at three points: 1.6311, 1.6390, and 1.6425.