The PBOC's devaluation of the Chinese Yuan (CNY), aka the Renminbi (RMB) has dominated forex headlines. It should indeed have major implications on many central bank policy outlooks. The conventional wisdom is that all other central banks will become less hawkish if not more dovish. Being that the RMB has become a major trading reserve currency in Asia (not as much globally vs. USD for example), the RBA and RBNZ might have the strongest reason to become more dovish. Australia for example is a major exporter to China, so it will be facing some pressure on exports now that the Yuan is lowered. 

Now, against the USD, we did see the Aussie and Kiwi drop sharply to new lows on the year (NLOTY), but there is a V-shape reversal taking place in the 4H charts. Let's put some focus on the AUD/USD reaction.

AUD/USD 4H Chart 8/12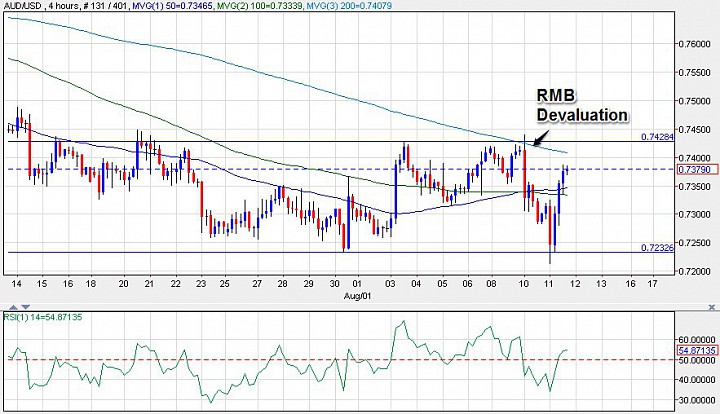 (click to enlarge)

Price action has been very choppy since the latest period of the bearish mode, so I can't trust any of these breakouts. even if price reverses and breaks above 0.7430, I would not trust the price bottom. However, if a subsequent bearish attempt then holds above 0.7325-0.7350, I would become more confident of a price bottom that can lead to a medium-term consolidation/bullish correction. For this bullish scenario, there could be upside risk towards the 0.76 handle, which is the previous consolidation support area. 

However, if price does not stay above 0.7325-0.7350, the 0.72 down to 0.70 level would still be in play in the medium-term outlook, for Q4, 2015.