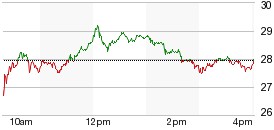 SAN MATEO, Calif., April 6, 2016 /PRNewswire/ -- SolarCity Corporation (SCTY) today announced it has closed a new $150 million non-recourse financing facility with Credit Suisse to support deployment of commercial solar energy systems—including battery storage systems—for businesses, schools and government organizations across the U.S. The facility will be secured by a portfolio of high quality, long-term commercial systems and contracts.
SolarCity commercial systems include ZS Peak, proprietary mounting hardware which can reduce project build time from multiple weeks to just a few days. Battery storage projects are supported by DemandLogic, an intelligent battery storage system that enables businesses to further reduce energy costs by using stored electricity to reduce peak demand and associated utility demand charges.
"Our asset portfolio enables us to continually bring in new capital from top tier institutional and corporate...
More