ARena Pharmaceuticals, Inc. ARNA, announced that it has completed an early-stage study comparing the once-daily, extended release (XR) formulation of its experimental pulmonary arterial hypertension (PAH) candidate, ralinepag, with its twice-daily immediate release (IR) formulation. It is to be noted that Ralinepag enjoys Orphan Drug status in the U.S.
Arena's shares have outperformed the Zacks classified Medical-Biomed/Genetics industry so far this year. Its stock was up 13.8%, while the industry registered an addition of 10.1%.


Coming back to the release, the phase I bioavailability study evaluated the safety, tolerability and pharmacokinetic (PK) profile of ralinepag XR tablets, given as single daily doses, at three dose levels to 12 healthy adult subjects. They were also given single doses of ralinepag IR capsules.
In fact, the PK results showed that the once-daily XR tablet helped in reducing the maximum plasma concentration (Cmax) of ralinepag compared with the IR capsule, while maintaining similar total plasma concentrations.
We note that the PAH market is highly attractive given the low diagnosis rate, the low penetration of existing therapies and the significant unmet medical need.
Recently, pharmaceutical giant Johnson & Johnson, Inc. JNJ acquired Swiss biotech Actelion which helped it gain a foothold in the PAH market. Actelion's PAH franchise includes differentiated, innovative medicines like Opsumit, Uptravi and Tracleer.
United Therapeutics Corporation UTHR also holds a strong position in the PAH market with four approved products targeting this indication. The four products are Remoduli, Adcirca, Tyvaso and Orenitram. Pfizer's PFE Revatio is used for the same indication as well.
Arena Pharmaceuticals, Inc. Price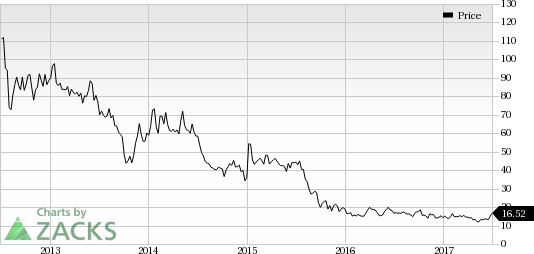 Arena Pharmaceuticals, Inc. Price | Arena Pharmaceuticals, Inc. Quote
Zacks Rank & Stocks to Consider
Arena currently carries a Zacks Rank #3 (Hold). You can see the complete list of today's Zacks #1 Rank (Strong Buy) stocks here.
5 Trades Could Profit "Big-League" from Trump Policies
If the stocks above spark your interest, wait until you look into companies primed to make substantial gains from Washington's changing course. Today Zacks reveals 5 tickers that could benefit from new trends like streamlined drug approvals, tariffs, lower taxes, higher interest rates, and spending surges in defense and infrastructure. See these buy recommendations now >>
Want the latest recommendations from Zacks Investment Research? Today, you can download 7 Best Stocks for the Next 30 Days.
Click to get this free report
Pfizer, Inc. (PFE): Free Stock Analysis Report
Johnson & Johnson (JNJ): Free Stock Analysis Report
Arena Pharmaceuticals, Inc. (ARNA): Free Stock Analysis Report
United Therapeutics Corporation (UTHR): Free Stock Analysis Report
To read this article on Zacks.com click here.
Zacks Investment Research