Anyone wondering what the bond market thinks about the prospects of an imminent rate hike need but look at the high yield of the just concluded 3 Year auction, which saw a yield of only 0.865%, pricing through the 0.87% when issued, and the lowest since March of 2014.
While one can barely see the blip on the chart below, the Bid to Cover was a fraction lower compared to March, at 3.252 down from the 3.330 TTM average and 3.330 record last month.
Completing the internal picture was an Indirect take down of 49.4% which was in line with recent auctions and solidly above the 12 month moving average of 37.6, while Dealers took 1% less than in March, at 39.5% of the final allotment, leaving Directs with 11.1% of the auction.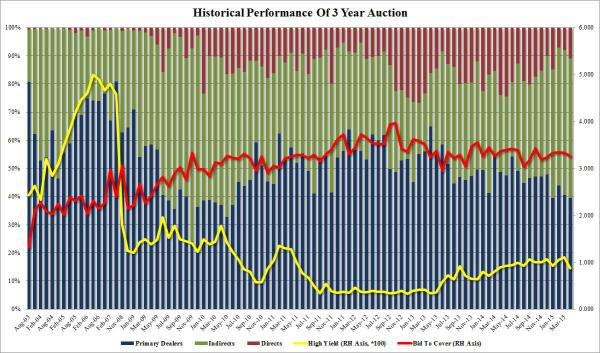 The final outcome: neither good nor bad, as the bond curve was largely unchanged after today's 3 Year.
Recall as noted earlier, the real test is tomorrow, when we get this month's 10 Year auction, and which is currently trading super special in repo suggesting anyone who could short the bond ahead of the auction, already has, and the shortage is now the biggest since June of last year.