Nvidia Corporation (NVDA) just released its third-quarter financial results, posting earnings of $1.33 per share and revenues of $2.64 billion.
Currently, NVDA is a Zacks Rank #2 (Buy) and is relatively flat in after-hours trading shortly after its earnings report was released. The stock closed about 1.8% lower on Thursday.
Nvidia:
Beat earnings estimates. The company posted earnings of $1.33 per share, crushing the Zacks Consensus Estimate of $0.94.
Beat revenue estimates. The company saw revenue figures of $2.64 billion, beating our consensus estimate of $2.36 billion.
Earnings per share climbed 60% from the year-ago period, while total revenues gained 32%.
Gaming revenues were $1.561 billion, up from $1.244 billion last year. Professional Visualization witnessed revenues of $239 million, up from $207 million in the comparable quarter. Datacenter revenues were $501 million, more than double the $240 million recorded in the prior-year quarter.
"We had a great quarter across all of our growth drivers," said CEO Jensen Huang. "Our Volta GPU has been embraced by every major internet and cloud service provider and computer maker. Our new TensorRT inference acceleration platform opens us to growth in hyperscale datacenters. GeForce and Nintendo Switch are tapped into the strongest growth dynamics of gaming. And our new DRIVE PX Pegasus for robotaxis has been adopted by companies around the world. We are well positioned for continued growth."
Here's a graph that looks at Nvidia's earnings surprise history:
NVIDIA Corporation Price, Consensus and EPS Surprise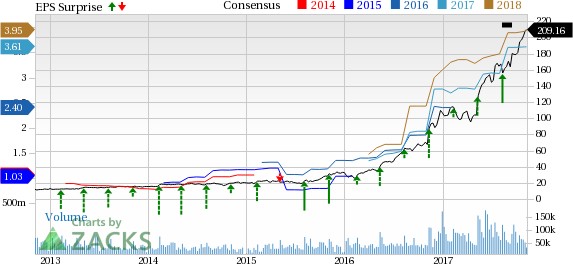 NVIDIA Corporation Price, Consensus and EPS Surprise | NVIDIA Corporation Quote
Nvidia Corporation is a worldwide leader in graphics processors and media communications devices. The company designs graphics processing units for the gaming, professional, and cryptocurrency markets, as well as system on a chip units for the mobile computing and automotive markets. Nvidia has shifted toward a platform-based model, with focuses on gaming, professional visualization, datacenters, and auto.
Check back later for our full analysis on NVDA's earnings report!
Want more stock market analysis from this author? Make sure to follow @
https://twitter.com/Ryan_McQueeney
on Twitter!
Today's Stocks from Zacks' Hottest Strategies
It's hard to believe, even for us at Zacks. But while the market gained +18.8% from 2016 - Q1 2017, our top stock-picking screens have returned +157.0%, +128.0%, +97.8%, +94.7%, and +90.2% respectively.
And this outperformance has not just been a recent phenomenon. Over the years it has been remarkably consistent. From 2000 - Q1 2017, the composite yearly average gain for these strategies has beaten the market more than 11X over. Maybe even more remarkable is the fact that we're willing to share their latest stocks with you without cost or obligation.
Want the latest recommendations from Zacks Investment Research? Today, you can download 7 Best Stocks for the Next 30 Days.
Click to get this free report
NVIDIA Corporation (NVDA): Free Stock Analysis Report
To read this article on Zacks.com click here.
Zacks Investment Research