Written by SmallCapPower.com
Suncor Energy Inc. (NYSE: SU) shares have declined 13% from its May 13, 2017 high to its current price of C$38.37, on falling crude oil prices. This presents an opportunity for investors to accumulate the stock. Suncor Energy is Canada's leading integrated energy company with significant presence in upstream oil sands operation and downstream refining and marketing. Suncor Energy also boasts of low production costs, strong funds from operations, and a consistent dividend payout for the past 15 consecutive years.
Share price of Suncor Energy (YTD) - Canadian Dollars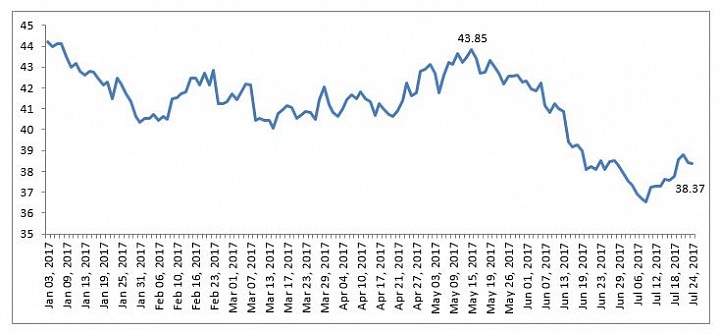 ...For 2017, Suncor is guiding for an annual upstream production of 680k to 720k (420k-450k BOEPD) and downstream refinery throughput of 425k-445k BOEPD. In addition, Suncor generates superior refining and marketing margins of ~US$9/BBL of capacity compared to the peer average of less than US$5/bbl of capacity. As of March 31, 2017, the Company has more than 410 million barrels of 2P reserves.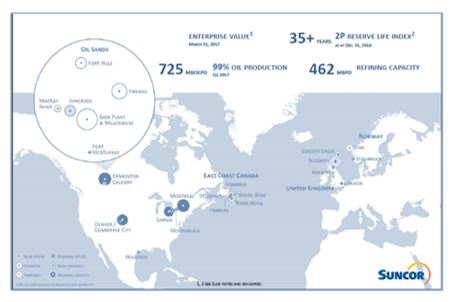 In addition to its diversified business, Suncor Energy is one of the lowest cost producers in North America. Aided by operational and productivity improvements, the oil sands cash operating costs of the Company reached C$22.25/BBL, almost half the 2011 levels of C$39.05/BBL. Operating, selling and general expense (OS&G) also stayed below 2014 levels although the production is up 30%.
Refining and Marketing Margins

Robust growth in production and funds from operations
Suncor's total upstream production increased to 725 mboe/d in 1Q17 from 691 mboe/d in the prior year quarter...
More