Invest with Confidence. Are you a financial professional? Stay on top of your portfolio with Benzinga Pro's real-time newsfeed and alerts and never miss a headline again.
Don't miss the chance to try it FREE today.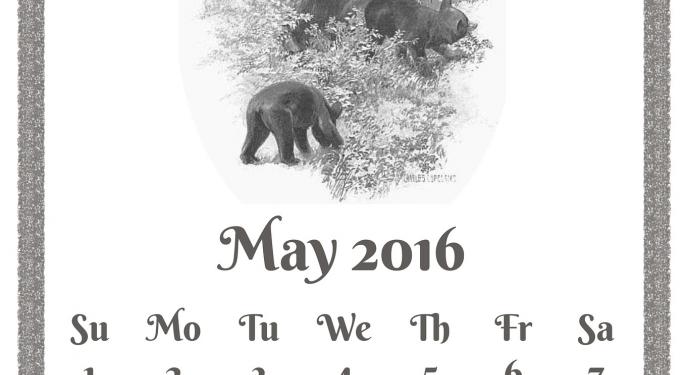 Welcome to May. The fifth month of the year historically marks the beginning of the weakest six-month period for stocks. Hence the old adage "Sell in May and go away." In the coming days, investors are likely to hear plenty about whether or not they should sell in May.
Unfortunately, those same investors probably will not hear too much about what sectors and corresponding exchange-traded funds usually perform well in May. We'll fix that right here, right now by examining the sector SPDR ETFs that have historically performed well in May since 1999, the first full trading year for the sector SPDR suite. Those ETFs debuted in mid-1998, making 1999 the first full trading year for the funds.
Consumer Staples
Underscoring the notion that investors opting to remain long equities at this time of year like to do so in conservative fashion, the Consumer Staples Select Sect. SPDR (ETF) XLP 1.15% is usually the best of the nine legacy sector SPDR ETFs this month. XLP, the largest consumer staples ETF by assets, posts an average May gain of over one percent, according to CXO Advisory data.
Related Link: Must Watch Stocks For May 2, 2016
Up 3.6 percent year-to-date, XLP has been one of the more solid options among sector ETFs. The ETF's top 10 holdings include familiar staples fare, such as Dow components Procter & Gamble Co PG 1.44%, The Coca-Cola Co KO 0.56% and Wal-Mart Stores, Inc. WMT 0.88%.
Energy
Placing second among the nine SPDRs on a historical basis for May is the Energy Select Sector SPDR (ETF) XLE 0.62%. XLE, the largest energy ETF by assets, averages a May gain of just under 1 percent dating back to 1999, according to CXO data.
XLE is also the second-best of the nine SPDRs in March and April, but May usually represents the end to the energy sector's favorable period of seasonality.
May is one of four months of the year in which XLE is either the best or second-best sector SPDR ETF on a historical basis. For XLP, May is one of three months in which the staples ETF ranks first or second among the sector SPDRs.
Materials And Consumer Discretionary
As for the two worst SPDRs on a historical basis, the pair also underscores investors' disdain for higher beta fare as summer looms. CXO Advisory data indicate the Materials Select Selector SPDR XLB 0.07% and the Consumer Discretionary SPDR (ETF) XLY 1.07% usually struggle in May.
XLB is up 8.5 percent year-to-date, while XLY is higher by 1.3 percent.
© 2016 Benzinga.com. Benzinga does not provide investment advice. All rights reserved.