The market seems to be really crazy right now, so options are the best choice to get the highest returns or minimize the risks. Under Armour is going to announce its earnings on Thursday, so I suppose the stock will be highly volatile. After the split a few weeks ago it went up 5%, everybody thinks that the stock went down too much after the split. People started selling it without any reasons.
Under Armour's straddle in case of a high volatility will be the best strategy.

Here you can see the options pricing with a strike price range from $42 to $47 while the current share price is $44. I think buying at the money straddle with expiration on 22nd April could be one of the most interesting strategies:
The P/L for the strategy with $43 strike price looks like that: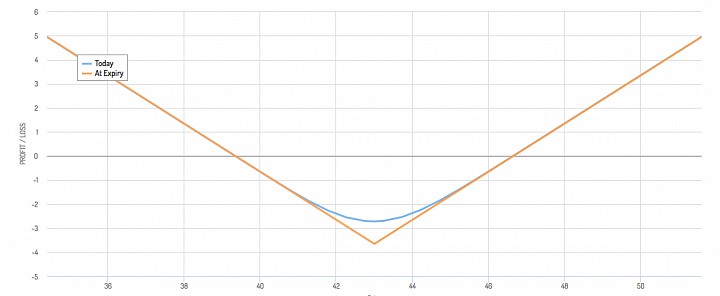 The total cost of this strategy will be around $3.65 both contracts call and put (one of each). If go down with the strike price, the cost of the strategy will go higher and it means that traders assume the stock growth rather than drop.