It is no longer news that China is positioning itself as a formidable competitor to the United States with the view of surpassing America to become the number one economy and command the most military superpower as soon as possible. This rivalry is taking a dangerous turn nowadays as China purportedly unleashed series of gigantic cyber-assaults on more than 600 U.S. private, government and corporate organizations.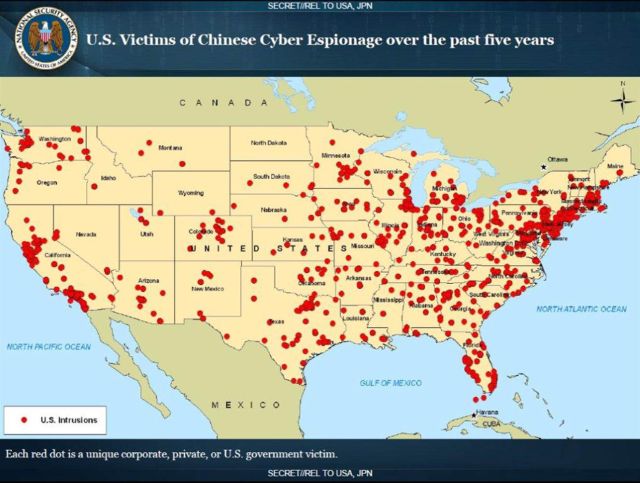 An interactive but secret NSA map exclusively obtained by NBC reveals the extent to which the Chinese Government has gone in attacking all sectors of the U.S. economy, from giant companies like defense contractor Lockheed Martin Corporation (NYSE:LMT) and internet giant Google Inc (NASDAQ:GOOG) to the U.S. government and military. This mapping was part of NSA attempts to monitor the frequency and impacts of cyber-terrorism against U.S. corporations and private and governmental establishments. On the map, over 600 red dots indicate successful efforts made by Chinese hackers to steal or intrude on the systems of American organizations over a period of five years. This spate of cyber-attacks is prevalent in major U.S. industrial locations. Whole areas from Boston to Washington are almost blanketed in red dots, meaning the Chinese cyber-thieves have concentrated their efforts in those particular regions and in cities like Silicon Valley, Detroit, Chicago, Miami, Dallas, L.A., and Seattle. California alone has a total of 50 dots, which means the state was aggressively targeted by Chinese cyber-attackers aimed at extracting as much IT information as possible from the companies operating in the state.
The Chinese government and its myriad of agencies have always vehemently denied any attempt to hack U.S. computers. Recently America witnessed the biggest cyber-attack in its history when the Office of Personnel Management (OPM), the agency which hires U.S. government workers and approves security clearances, was hacked, spilling up to 4 million U.S. government employees' personal and confidential information into the hacker's hands. Sensitive information like date of birth, social security numbers, phone numbers, names and addresses are thrown into cyberspace, putting the affected employees into danger.
Initial investigations by the FBI and other intelligence agencies indicated that China may have been the main source of the OPM cyber-attack. Even Sen. Susan Collins, a Republican on the Intelligence...
More