Mettler-Toledo International Inc.'s MTD third-quarter 2017 results were impressive, with the company beating the Zacks Consensus Estimate on both counts.
Adjusted earnings per share of $4.36 beat the consensus mark by 6 cents and increased 12% year over year. It was above the company's guided range of $4.25 to $4.30 per share.
The better-than-expected results were driven by strong growth across Laboratory and Industrial segments in all regions. The company's strong product pipeline along with Field Turbo investments, marketing initiatives and Spinnaker sales contributed to its results.
In the quarter, Mettler-Toledo acquired Biotix, a manufacturer and distributor of laboratory consumables and liquid handling solutions to the life science market. The acquisition is expected to help Mettler-Toledo gain access to indirect distribution channels with robust secondary brands.
Overall, we remain positive about Mettler-Toledo's leading market position, focus on product development and cost reduction, sales and marketing efforts and operational excellence programs. The company is expected to benefit from strong growth prospects in product inspection and services.
We observe that Mettler-Toledo shares have gained 52.8% year to date, underperforming the 45.7% rally of the industry it belongs to.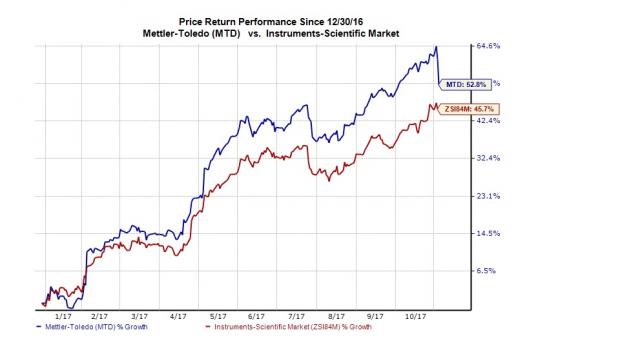 Let's check out the numbers
Revenues
Net sales of $698.8 million beat the consensus mark by 15.2 million and were up 7% year over year. In local currency, sales grew 6%, which was better than management's guided range of 5% growth. Excluding Retail and the impact of M&A, organic sales growth was approximately 8% in local currency.
Mettler-Toledo International, Inc. Revenue (TTM)
The year-over-year improvement was driven by strengths across Laboratory and Industrial segments and contribution from acquisitions. Laboratory and Industrial increased a respective 9% and 8%. Food Retail was down 18%.
Geographically, Americas, Europe and Asia/Rest of the World increased 2%, 7% and 15%, respectively on a year-over-year basis. Americas gained 2% from the acquisitions. China sales grew 28% in the quarter in local currency.
Operating Results
Gross margin was 57.3%, up 50 basis points (bps) year over year. The year-over-year increase was driven by pricing and productivity gains, partially offset by mix and foreign exchange. Pro-forma operating margin was 23.3%, flat year over year.
Research & development increased 6% year over year (in local currency) to $32.5 million driven by higher spending on product development. Selling, general & administrative (SG&A) expenses increased 8% (in local currency) to $204.9 million due to increase in variable compensation investments in Field Turbo programs and new marketing programs.
Non-GAAP net income was $114.7 million or $4.36 per share compared with $104.6 million or $3.89 per share a year ago. GAAP net income was $105 million or $3.99 per share compared with $101.3 million or $3.77 per share a year ago.
Balance Sheet and Cash Flow
At the end of the third quarter, cash and cash equivalents balance was $169.1 million compared with $146.3 million in the previous quarter. Long-term debt was $1.1 billion compared with $947.8 million in the previous quarter.
The company generated $145.9 million in cash from operating activities and spent $37.3 million on capex. During the quarter, the company returned nearly $85 million to shareholders by repurchasing shares.
Free cash flow was $111.9 million compared with $125.6 million in the year-ago quarter.
Outlook
For the fourth quarter of 2017, Mettler-Toledo expects local currency sales to grow approximately 5.5%. The company expects Biotix to contribute 1% to this growth. Adjusted EPS is expected to grow 12% to $5.90, better than the Zacks Consensus Estimate of $5.86.
For 2017, Mettler-Toledo reiterated its previous guidance, expecting local currency sales growth to be approximately 8%.
The company however raised its view on adjusted earnings. It now anticipates adjusted earnings to be $17.50 compared with the previous expectation of $17.25 to $17.35 per share. Earnings are projected to increase 18% over 2016.
Management now expects cash flow to be in the $410 million range, a 15% increase over 2016.
Zacks Rank and Stocks to Consider
Mettler-Toledo currently has a Zacks Rank #2 (Buy).
Better-ranked stocks in the broader technology sector are NVIDIA Corporation NVDA, Lam Research Corporation LRCX and Micron Technology Inc. MU, all sporting a Zacks Rank #1 (Strong Buy). You can see the complete list of today's Zacks #1 Rank stocks here.
Long-term earnings growth for NVIDIA, Lam Research and Micron is projected to be 11.2%, 14.9% and 10%, respectively.
Looking for Stocks with Skyrocketing Upside?
Zacks has just released a Special Report on the booming investment opportunities of legal marijuana.
Ignited by new referendums and legislation, this industry is expected to blast from an already robust $6.7 billion to $20.2 billion in 2021. Early investors stand to make a killing, but you have to be ready to act and know just where to look.
See the pot trades we're targeting>>
Want the latest recommendations from Zacks Investment Research? Today, you can download 7 Best Stocks for the Next 30 Days.
Click to get this free report
Mettler-Toledo International, Inc. (MTD): Free Stock Analysis Report
NVIDIA Corporation (NVDA): Free Stock Analysis Report
Micron Technology, Inc. (MU): Free Stock Analysis Report
Lam Research Corporation (LRCX): Free Stock Analysis Report
To read this article on Zacks.com click here.
Zacks Investment Research