Yesterday at 10:30pm eastern, or alternatively today at 2:30pm local time, Australia's central bank unexpectedly did not cut its key interest rate, keeping it at 2.25% even as the majority of economists had predicted a rate cut. However, not everyone was surprised. Just a minute before the official announcement at bottom of the hour sharp, the AUD surged by 0.6%, rising from 0.7774 to 0.7822, suggesting that at least one algo and likely more, had advance knowledge of the unchanged decision, as shown in the  chart below.
As BBG further reports: "The Australian dollar was curiously bid going into the
today's announcement, having traded as high as 78.23 cents,"
Robert Rennie, head of currency and commodity strategy in Sydney
at Westpac Banking Corp., wrote in a note to clients.
Was this a leak, or a strategically placed, and correct, HFT momentum ignition burst just ahead of the RBA announcement? If indeed this was a lucky guess, it would be the second time in a row HFTs have correctly predicted the "surprise" move by the RBA:
It was the second time in two months the RBA had surprised forecasters and also the second time the currency moved in the right direction in advance of the central bank. On Feb. 3, the Aussie dropped 0.6 percent to 77.49 cents in the 10 seconds before the RBA decision was released. It fell to a 5 1/2-year low of 76.26 after the rate-cut announcement.
Nothing new here, and merely a rehash of what has been said here since 2009: "The increase in the use of high-frequency trading has spurred concern that algorithm-driven orders can lead to distortions for stock, bond and equity markets around major data releases."
Still, some were surprised that the market is either rigged, or selected leaks continue to favor a specific group of traders:
"We were sitting here, the Aussie just jumped and we're wondering what's going on," Annette Beacher, head of Asia-Pacific research at TD Securities Inc. in Singapore, said by phone after Tuesday's decision. "We were watching that very closely. There were market rumors that the website was updated a little early."
For its part, the RBA denied speculation it had leaked the report early: "The RBA published its statement at the scheduled time, a spokesperson for the central bank said, asking not to be identified as per standard practice for the organization. The RBA declined to comment on whether the matter was being investigated."
Australia's SEC has promised it will investigate: "ASIC cannot comment specifically, however as you may expect we would review any unusual trading as part of our routine monitoring and surveillance activities," Sydney-based ASIC spokeswoman Miriam Phillips said by phone on Tuesday.
But it won't, because in the "new paranormal" where occurences such as this one are now a daily fixture, any inquiry into just how broken the market is will lead to some truly dramatic revelations, and since stocks are at all time highs, HFTs are for now merely facilitating the central bankers' job, which over the past 7 years has been a very clear one: reflate the biggest asset bubble of all time. Of course, following the crash, everyone will blame the HFTs who will be a conveient scapegoat for everything that is wrong with the "market", but for now it's smooth sailing ahead.
It was also unclear if any HFT manipulation in the AUD was connected to a dramatic move in gold just ahead of the announcement, when gold tumbled then promptly rebound as the following chart by Nanex shows.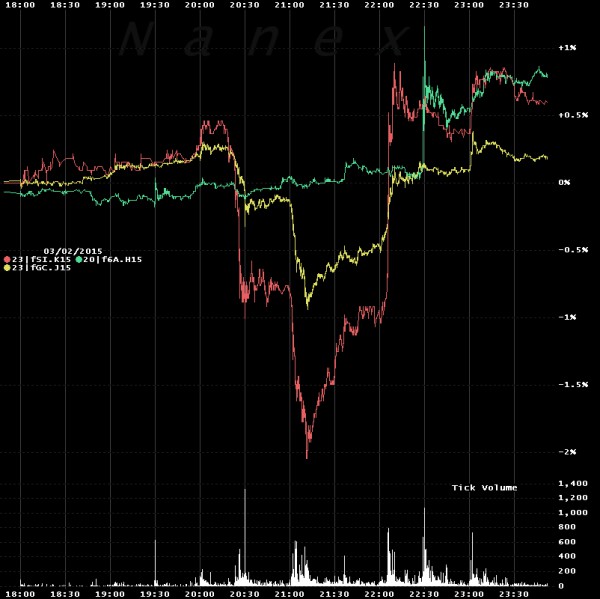 This particular gyration in the asset most hated by central bankers everywhere will certainly not be investigated by anyone in regulatory authority, anywhere.