It has been about a month since the last earnings report for Liberty Property Trust LPT. Shares have added about 6.6% in that time frame, outperforming the market.
Will the recent positive trend continue leading up to the stock's next earnings release, or is it due for a pullback? Before we dive into how investors and analysts have reacted of late, let's take a quick look at its most recent earnings report in order to get a better handle on the important drivers.
Liberty Q3 FFO & Revenues Top, View Raised

Liberty Property reported third-quarter 2017 FFO per share of 66 cents, which surpassed the Zacks Consensus Estimate of 63 cents. Total operating revenues of around $193.7 million for the quarter also outpaced the Zacks Consensus Estimate of $167.9 million.

On a year-over-year basis, the company's FFO per share remained unchanged, while total operating revenues inched up 1.5% year over year.

During the reported quarter, Liberty Property accomplished lease deals for 5.9 million square feet of space. As of Sep 30, 2017, occupancy at the company's in-service portfolio, spanning 100 million square feet, expanded 30 basis points (bps) sequentially to 95.9%.

Quarter in Detail

Liberty Property's industrial portfolio, spanning 93.4 million square feet, enjoyed occupancy of 96.3% at the end of the quarter, marking an expansion of 40 bps from the prior quarter. Industrial distribution rents escalated 14.8% on renewal and replacement leases signed during the quarter.

On the other hand, the office portfolio, comprising 6.7 million square feet of space, had occupancy of 91.0%, down 50 bps from the prior quarter. Office rents were up 12.6% on renewal and replacement leases.

Same-store properties' operating income increased 3.0% year over year on a cash basis and 2.6% on a straight-line basis. Additionally, same-store operating income for the industrial portfolio climbed 5.2% on a cash basis and 4.3% on a straight-line basis. However, same-store operating income for office portfolio descended 7.7% on a cash basis and 5.3% on a straight-line basis.

Balance Sheet Position

Liberty Property exited third-quarter 2017 with cash and cash equivalents of around $47.7 million, up from $43.6 million recorded at the end of the prior year.

Notably, during the reported quarter, the company's share repurchase authorization was renewed by its board of trustees to purchase up to $250 million of its outstanding common shares. This authorization is valid through Sep 28, 2019.

Following the quarter end, Liberty Property's existing $800-million unsecured revolving credit facility that was set to mature in March 2018 was amended and restated with a new $900-million unsecured facility. The new facility matures in October 2021 and the company enjoys rights for an additional year of extension.

Outlook

Liberty Property raised its guidance and now projects full-year 2017 FFO per share in the range of $2.54-$2.57, against $2.49-$2.55 guided earlier.

Further, the company revised its 2017 industrial same-store NOI guidance range to 3-3.5% from the prior range of 2-3%.
How Have Estimates Been Moving Since Then?
Following the release, investors have witnessed an upward trend in fresh estimates. There have been three revisions higher for the current quarter. While looking back an additional 30 days, we can see even more upward momentum. There have been four moves higher in the last two months.
Liberty Property Trust Price and Consensus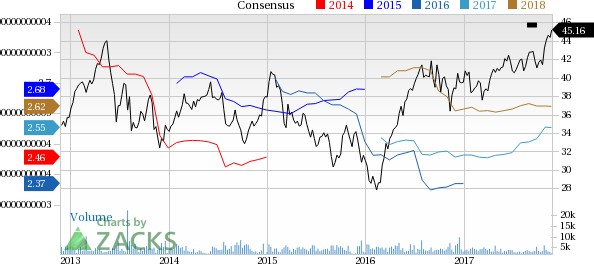 Liberty Property Trust Price and Consensus | Liberty Property Trust Quote
VGM Scores
At this time, Liberty Property's stock has a poor Growth Score of F, however its Momentum is doing a lot better with a C. The stock was allocated a grade of D on the value side, putting it in the bottom 40% for this investment strategy.
Overall, the stock has an aggregate VGM Score of F. If you aren't focused on one strategy, this score is the one you should be interested in.
The company's stock is suitable solely for momentum investors based on our style scores.
Outlook
Estimates have been trending upward for the stock. The magnitude of these revisions also looks promising. Notably, the stock has a Zacks Rank #3 (Hold). We expect in-line returns from the stock in the next few months.
Want the latest recommendations from Zacks Investment Research? Today, you can download 7 Best Stocks for the Next 30 Days.
Click to get this free report
Liberty Property Trust (LPT): Free Stock Analysis Report
To read this article on Zacks.com click here.
Zacks Investment Research