As a DGI'er, I am always on the lookout for red tag sales.
The energy sector has gotten killed, and more bad news crops up everyday.
Unless you think the world will never have more demand for oil, there are bargains to begin scaling into.
I think I have seen more lousy news from the oil patch over the last 3 months than at any time since the 1970s. The difference, of course, is that back then, there was less oil, greater demand, and rising prices. Today, the oil glut is escalating, demand appears flat, and the price of a barrel of oil is 48 bucks:
U.S. energy companies are planning more layoffs, asset sales and financial maneuvers to deal with a recent, sudden drop in U.S. crude-oil prices to under $50 a barrel, the lowest level in four months.
Undoubtedly, the squeeze is being felt by virtually all of the major oil/energy companies, and the share prices are reflecting a full correction and even the potential for an extended bear market in the sector.
It is quite easy to see just by glancing at this chart: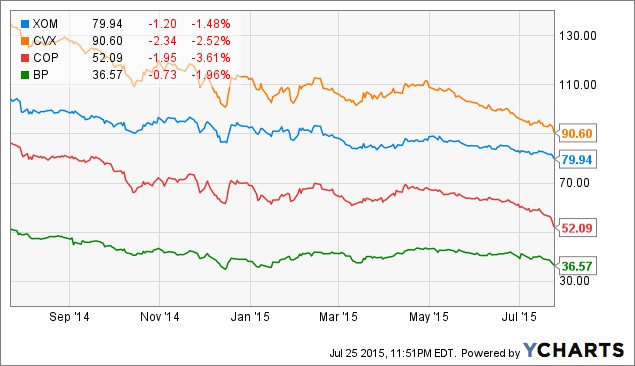 Of course, these are just the share prices; what are the valuations telling me?
The Valuations Have Come Back To Realistic Levels, While Yields Have Soared
I look at these 4 major oil companies as my own indicator of dropping share prices: Exxon Mobil (NYSE:XOM), Chevron (NYSE:CVX), ConocoPhillips (NYSE:COP), and BP (NYSE:BP). Personally, I am of the mind right now that blood has begun to spill onto the street in this sector for the two largest of the majors, XOM and CVX. My personal choice is XOM, due to the fact that the company has a bullet-proof balance sheet, not much debt relative to cash flow, an accidental dividend yield of 3.60% currently, an extraordinarily low payout ratio for a dividend aristocrat, and more cash reserves to virtually do whatever it chooses in the sector, but it is compelling to view the metrics of the two giants on a chart.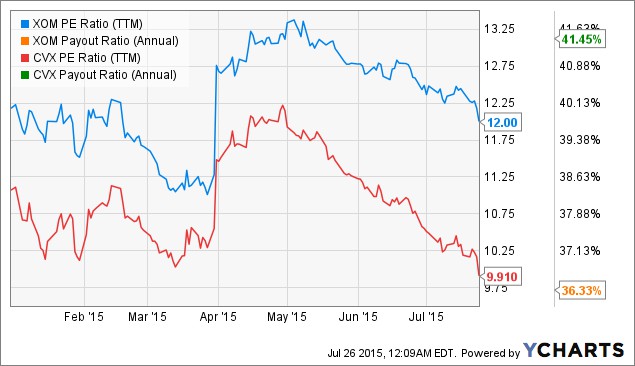 While that does not mean the prices cannot go lower as sentiment continues to be bearish, an investor opening or adding to a position by buying as the prices dip even further will enjoy solid and reliable income from dividends while waiting for the inevitable rebound in share price.
The Contrarian In Me Embraces The Bad News As An Opportunity
When we read that more layoffs are being planned and a company like COP is re-evaluating virtually everything, then I myself assume that this will also be reflected in Exxon Mobil as well. From The Wall Street Journal (article linked above):
ConocoPhillips, one of the world's largest oil-and-gas exploration companies, has already cut nearly 1,500 jobs so far this year, according to Graves. But the Houston-based company is planning more layoffs for this fall that could number into the thousands, according to people familiar with the matter.

"We are currently reviewing and adjusting our workforce levels in light of an extended period of low prices," said Daren Beaudo, a spokesman for the company. "We've informed our workforce that reductions should be expected. It would be premature to speculate or estimate at this time."
Chesapeake Energy (NYSE:CHK) pulled its dividend, and that is a huge sign of trouble for DGI'ers. A 4.25% yielder now goes to zero:
In another sign of stress, Chesapeake Energy Corp. said last week it would eliminate its annual shareholder dividend. The U.S. shale driller said the move will save it $240 million in payouts that it can plow back into capital spending to help it survive 2016.
Morgan Stanley is warning that the oil crash could be worse than in the 1970s, when the bottom fell out and all the majors suffered:
Morgan Stanley warned recently that the current downturn could be even worse than the one that crippled the industry in 1980s. If Saudi Arabia and Iraq keep running full tilt and Libya and Iran get their oil production back on track, crude prices could languish below $60 for the next three years, said Martijn Rats, an analyst.

"On current trajectory, this downturn could become worse than 1986," he said.
It almost seems that anyone in their right mind would avoid the entire sector, including Exxon Mobil, which saw its share price fall below under $80.00 for the first time in over 3 1/2 years!
Therein Lies The Opportunity
Look, the world runs on oil, period. Virtually everything is petroleum-based, from the obvious gasoline products to home furnishings and even food supply. Demand will always be there, and eventually, this cycle will run its course as always.
For dividend growth investors, just looking at some basic fundamentals lends itself to many being ready to pounce on the stock:
The market cap is $334 billion, while the enterprise value is $362 billion.
Price-to-sales is 1.01, and price-to-book is now planted under 2.00 at 1.98.
The revenue is at $335 billion, and gross profit is still awesome at $127 billion.
Cash flow is $38 billion - more than enough to service its debt, pay shareholder dividends, and continue buying back shares.
51% of shares are institutionally held, and those will be seeking the bargains, in my opinion.
The dividend yield is currently 3.65% and the payout ratio is just 41%, and that will obviously bring out the tire kickers of retail investors looking for yield and reliability from a mega-cap blue chip company like XOM.
XOM is a dividend aristocrat with a record of paying and increasing its dividends each and every year for over 32 years now (since 1983), and I believe it is quite safe to continue.
Over 41 million shares are being shorted, and if the price jumps, there might even be a short squeeze.
The decline in earnings and revenues has been eye-popping, with revenue declining 37% quarter-over-quarter and earnings declining by 46%. The share price of XOM has dropped nearly 24% in a 52-week period, and as I have mentioned, dividends in the sector are being squeezed or re-evaluated. Thus far, as noted in the Barron's article:
"The industry has not been generating enough money to cover its capital spending and dividends," says Fidelity Investments energy fund manager John Dowd.

So far, the biggest names in the industry have not had to make drastic changes to their deployment of capital. XOM raised its payout in April, although by a smaller percentage than in previous years... "They have the ability to reduce capital spending significantly over the next three to four years if current commodity prices sustain." says Dowd.
As a DGI'er, I would think that many are "circling the wagons" right now as more of this bad news hits the front pages. Keep in mind, I am not talking about "Fly By Night Energy Company" here, but the largest energy company on the planet - Exxon Mobil.
Unless you believe that the company is going bankrupt, I hold scaling in slowly as the bad news keeps coming - like the Iran deal - and pushes the price even lower gives a very rare opportunity to capture strong dividend income from one of the most well-respected mega-cap blue chip companies on Earth.
I believe retirees should take a long, hard look at the sector and the opportunities, and for those who have a relatively high risk tolerance to hearing awful news every minute, the rewards of more income at sale prices are very alluring.
Would I buy more shares of XOM under $80/share? I definitely would start here and look for more dips to keep on adding. I currently have an overallocated position in XOM, but I am seriously considering taking advantage of this period to increase my own income!
Perhaps even those investors who have seen some pure-growth stocks appreciate nicely might consider redeploying funds into this high-yielding blue chip if they continue to seek more income.
Nothing Is For Certain
I am not saying or even intimating that the share price of XOM and other major oil companies have hit a bottom. Anything can happen, and as quickly as the price hit $79.94, it could be hammered once again with the upcoming earnings report, as well as Congress passing the Iran nuclear deal.
Who knows? Even $60.00/share for XOM is not too far out of the realm of possibility.
Just be careful and give yourselves a reality check.
XOM reports quarterly earnings on 7/29/2015. That should be quite interesting, and we may see if all the negatives have been priced into the share price by now.
You will need a strong stomach, but I have seen this before, and for those who are the real contrarians, now just may be the time to dip one or two toes into the frigid waters of the oil patch.
Disclaimer: The opinions of the author are not recommendations to either buy or sell any security. Your own risk tolerance levels require that you understand that if the risk is too much and you cannot hold on, then you might not want to even consider the opinions! That being said, please remember to do your own research, the deeper due diligence required and think hard about taking action prior to making any financial decision.
More