Torex Gold recently announced the results of a preliminary economic assessment on its Media Luna Project, which will be its second mine, as well as an updated inferred resource.
The deposit now contains 7.42 million inferred gold ounces, with the PEA giving the deposit a net present value of $729 million.
This deposit only adds to the value of the company.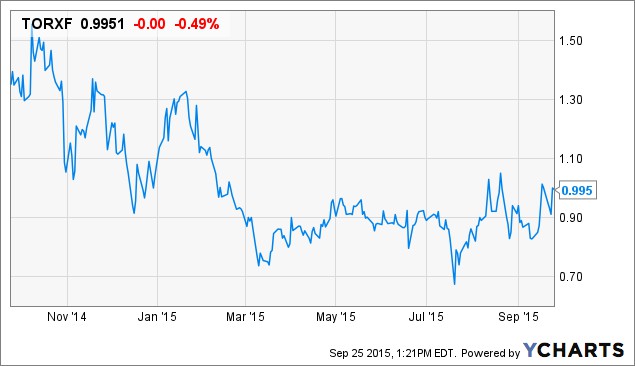 Recent Stock Price: $1.00
Shares Outstanding: 785.37 million
Market Cap: $781.52 million
52-Week Range: $.67 - $1.56
A lot has happened with Torex Gold (OTCPK:TORXF) since I first covered the company in a March 20 article.
In that article, I argued that the company's 100% owned Morelos Gold property will be a very economical gold mine, which will be developed in two parts. First, the El-Limon Guajes project will be developed and produce 358,000 ounces of gold annually beginning next year, at all-in sustaining costs around $750 per ounce, making it very profitable at $1,100 gold.
But the company's second gold project called Media Luna is where the real potential lies. This deposit contained 3.38 million gold ounces at the time of that article.
However, Torex recently announced an updated resource estimate and a positive preliminary economic assessment on Media Luna that was even better than I expected.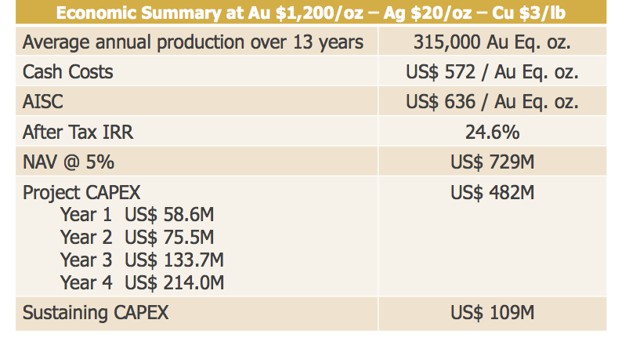 (Credit: Torex Corporate Presentation)
Torex says that Media Luna now contains 7.4 million gold equivalent inferred ounces, with the resource still open for expansion in all directions.
According to a preliminary economic assessment, Media Luna carries an after-tax net present value of $729 million (5% discount). Over a 13-year mine life, this deposit will produce cumulative cash flow of $1.4 billion, with $225 million in EBITDA the first year of production (2021).

(Credit: Torex Corporate Presentation)
This is all based on a $1,200 gold price. The PEA estimates all-in sustaining costs of just $636 per gold ounce, or $158 per ounce net of by-product credits.
However, even at $960 gold, the project looks economical, with an after-tax value of $360 million (5% discount), an internal rate of return of 16.1%, and 2021 EBITDA of $157 million, according to the study.
As for the main project, El-Limon Guajes, it is a high-grade, open-pit gold project that is currently 88% built and is on-schedule and on-budget, with first gold pour expected by the end of the year, according to the company's website. This will produce 275,000 ounces of gold in 2016, jumping to 384,000 ounces by 2017.
What's more: of the 275,000 ounces of planned production, the company has hedged 104,000 of those ounces at $1,241 gold, which is almost $100 an ounce higher than current spot prices. The El-Limon Guajes project will produce gold at life-of-mine all-in sustaining costs of just $637 per ounce, according to the 2015 feasibility study, resulting in strong margins and cash flow.
So, Torex will likely end up producing 275,000 ounces of gold in 2016 from El-Limon Guajes, which is up from previous estimates of 168,000 ounces. But Media Luna will likely add another 300,000+ ounces of annual production beginning in 2020, at AISC of $637.
Ultimately, Torex could be a 575,000+ ounces a year producer at AISC lower than $700, which would result in full-year EBITDA of $230 million at $1,100 gold and $345 million at $1,300 gold. With a current enterprise value of $890 million (according to Yahoo Finance), that would give shares an EV/EBITDA of 3.86 at $1,100 gold and 2.57 at $1,300 gold.
In conclusion, Torex has made great strides at its Morelos gold property, in particular at the Media Luna deposit. I expect the company to have little issues coming up with the remaining capital requirements, and I think shares have considerable upside here.
Editor's Note: This article discusses one or more securities that do not trade on a major U.S. exchange. Please be aware of the risks associated with these stocks.
More