Markit Services PMI rose modestly but hovered at one-year lows at 54.2 in January suggesting, as Markit notes, "the near-halving in the pace of economic growth in the fourth quarter of 2014," as companies struggle with new orders seeing the smallest increase since the financial crisis over six years ago. This comes on the heels of Decembers big miss in ISM Services, which rose - like PMI - very modestly to 56.7 (from a revised 56.5) with prices-paid tumbling to its lowest sinceJuly 2009 and employment lowest since Feb 2014. That said, it wouldn't be a Baffle with BS economy if the two releases, which are supposed to at least agree on the direction of the move, did not report two diametrically opposite trends, with the ISM reporting that while Employment tumbled from 55.7 to 51.6, New Orders actually rose from 56.5 to 56.7. Markit? The other way around, with New Orders dropping from 53.4 to 52.3 as Employment rose from 51.5 to 52.3!
Confused yet? That's the whole point.
According to Markit, economic growth has halved in Q4.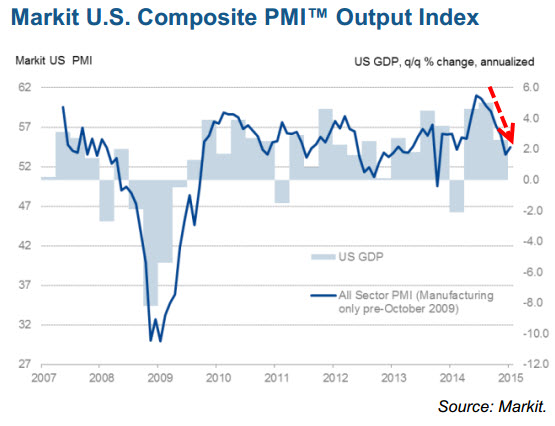 As Markit concludes,
"Companies are clearly struggling at the moment, with the surveys recording the smallest increase in new orders seen since the financial crisis six years ago amid weaker US and global economic growth and the strong US dollar.

 

At the same time, cost pressures hit a post-crisis low due to the oil price rout, which should pave the way for further falls in headline inflation in coming months.

 

Irrespective of the employment gain, the combination of lower inflation and slower economic growth suggests that any lifting of interest rates before mid-year is looking increasingly unlikely."
And ISM Services bounced very modestly but beat expectations...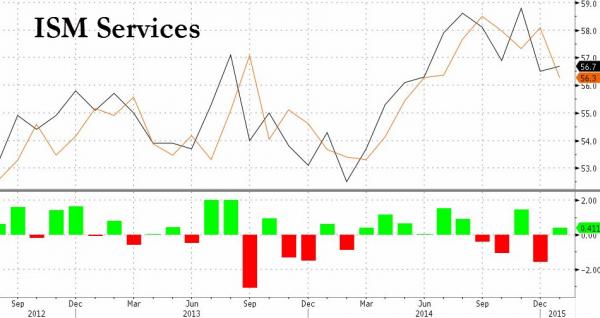 And here is the ISM employment index: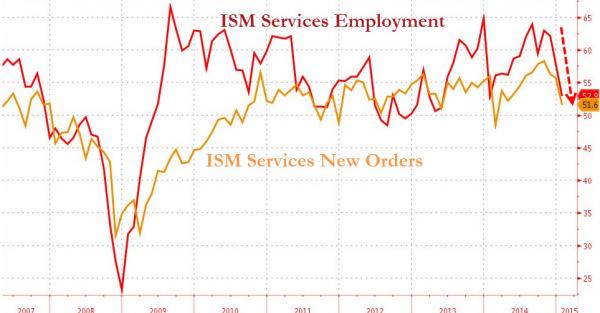 Not pretty under the covers:
U.S. ISM NON-FACTORY EMPLOYMENT GAUGE LOWEST SINCE FEB. 2014
U.S. ISM NON-FACTORY PRICES-PAID INDEX LOWEST SINCE JULY 2009
In summary: ugly, but better than expected, and very, very confusing. Just as algos like it.