Nokia Corporation's NOK third-quarter 2017 earnings (non-IFRS) per share of €0.09 (approximately 11 cents) surpassed the Zacks Consensus Estimate of 6 cents. In the year-ago period, the company had reported earnings of €0.04 (5 cents) per share.
Net sales declined year over year to €5.5 billion (approximately $6.5 billion). However, the top line surpassed the Zacks Consensus Estimate of $6.41 billion but fell short of the year-ago figure of approximately $6.57 billion. This was because revenues were hurt by the Nokia Networks' disappointing performance. Weakness in the Ultra Broadband Networks' subgroup contributed to the soft results posted by Nokia's flagship division.
Quarterly adjusted gross margin was 42.7% in the reported quarter compared with 40% a year ago. Operating margin increased 280 basis points (bps) to 12.1% on a year-over-year basis. Markedly, strong performance in the Nokia Technologies division led to the upsurge.
Segmental Revenues
In the Nokia Networks segment, total revenue was approximately €4,823 million (around $5,667 million), down 9% year over year. The division includes three reportable sub-units - Ultra Broadband Networks (which includes Mobile Networks and Fixed Networks operations), Global Services and IP Networks and Applications (which includes the IP/Optical Networks and Applications & Analytics operations).
In fact, net sales declined in all regions, apart from Asia Pacific (2%) and Middle East and Africa (2%), which led to the segment's below-par performance. The same decreased by 10% in Latin America, 16% in North America, 20% in Greater China and 7% in Europe.
However, segmental gross margin improved 110 bps to 38.6% in the reported quarter on the back of impressive operational discipline. Quarterly operating margin was 6.9% compared with 8.2% a year ago. Meanwhile, segmental operating margin was hurt by the below-par performance of the Ultra Broadband Networks sub-group.
Notably, the decline in the net sales of the Ultra Broadband Networks' sub-group by 17% to €2,099 million (around $2,466 million) hurt sales of the Nokia Networks segment. Also, the Global Services sub-group registered a 2% decline in net sales to €1,359 million (around $1,597 million) primarily due to weakness in the communication service provider market. Net sales in the IP Networks and Applications sub-group declined 4% year over year to €1,365 million (around $1,604 million).
The Nokia Technologies segment's quarterly total revenue was €483 million (approximately $567 million), up 37% year over year. Segmental gross margin was 97.9% compared with 96.6% in the year-ago quarter. Operating margin expanded significantly to 80.7%.
Segmental results were aided by Nokia's licencing agreement with LG Electronics. We remind investors that Nokia had received an upfront cash payment from Apple AAPL in the second quarter of 2017 following Nokia's licensing and business partnership deal with the latter in May 2017.
In Group Common and Other segment, net sales decreased 15% to €251 million (approximately $295 million). Segmental gross margin was 12.7%, down 140 basis points. In fact, this division incurred an operating loss in the quarter under review.
Nokia Corporation Price, Consensus and EPS Surprise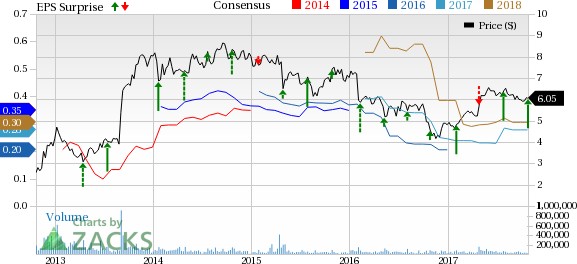 Nokia Corporation Price, Consensus and EPS Surprise | Nokia Corporation Quote
Dividend Hike
Nokiaannounced an increase of approximately 11.8% in its dividend to €0.19 per share for 2017. The company also aims to repurchase some more shares by Dec 31, 2017.
Outlook
Nokia officially took control of rival Alcatel-Lucent in January 2016 and continues to expect annual cost savings of €1.2 billion in full-year 2018, excluding Nokia Technologies.
For 2017, capital expenditure outlook for this Zacks Rank #3 (Hold) company is now approximately €600 million (old guidance: €500 million). Non-IFRS tax rate is expected in the range of 25% to 20% in 2017 (old guidance: 25% to 30%). You can see the complete list of today's Zacks #1 Rank (Strong Buy) stocks here.
The company anticipates net sales in its primary networks division to decline in 2017, which is in line with the primary addressable market. However, the market conditions are expected to be more challenging than expected earlier.
Additionally, the primary addressable market for Nokia's main unit is now expected to decline in the band of 4% to 5% compared with 3% to 5%, projected earlier. In 2018, the market is expected to decline in the band of 2% to 5% as well. Segmental operating margin is still forecasted to be in 8% to 10% range.
Furthermore, Nokia added that segmental results in the final quarter of 2017 are likely to be hurt primarily due to competition in the Chinese market.
Key Releases Coming Up
Investors interested in the Computer and Technology sector will now look forward to the earnings reports of Harris Corporation HRS and Motorola Solutions MSI. While Harris is scheduled to report results on Oct 31, Motorola will unveil its earnings report on Nov 2.
Looking for Stocks with Skyrocketing Upside?
Zacks has just released a Special Report on the booming investment opportunities of legal marijuana.
Ignited by new referendums and legislation, this industry is expected to blast from an already robust $6.7 billion to $20.2 billion in 2021. Early investors stand to make a killing, but you have to be ready to act and know just where to look.
See the pot trades we're targeting>>
Want the latest recommendations from Zacks Investment Research? Today, you can download 7 Best Stocks for the Next 30 Days.
Click to get this free report
Nokia Corporation (NOK): Free Stock Analysis Report
Harris Corporation (HRS): Free Stock Analysis Report
Motorola Solutions, Inc. (MSI): Free Stock Analysis Report
Apple Inc. (AAPL): Free Stock Analysis Report
To read this article on Zacks.com click here.
Zacks Investment Research