EUR/CAD  moved away from projected support area , rejecting to trade below 1.5000 . Longer term uptrend is still valid but some signs of weakening are  starting to  emerge now .and were mentioned here:
 http://jaroslavv.whotrades.com/blog/43733022897 . 
If market will be able to move into Target Area 1.5325/50 we will reach another , more significant level from which new trading opportunity will arise . 
Velocity of the movement , fundamentals and commitment of buyers will be the key for another decision making process at the time .                             
http://smbu.us/smbwh
---------------------------------------------------------------------------------------------------------
INTRADAY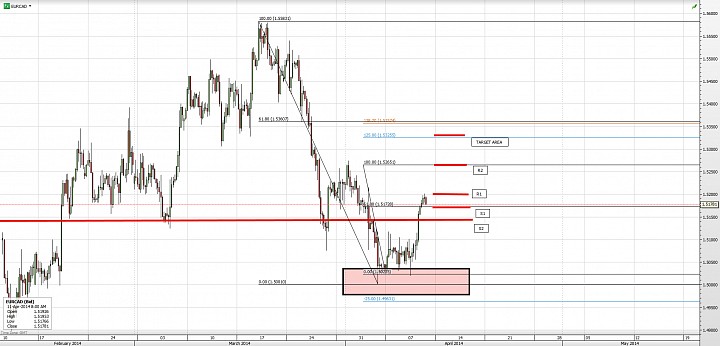 Fundamentals reactions to look for today :
- 
Key economic indicators scheduled for release today include German and Spanish Consumer Price Indices, German Wholesale Price Index and French Current Account Balance.
- Intraday support and first retracement from latest swing is at 1.5130 . Below that  level would be sign of weakness for long positions as we would be trading under Key intraday level support .
- More aggressive support comes at 1.5170 today and will be a gauge of interest .
- Expecting some initial resistance and break out later at 1.5200 .
- Key resistance and potential target  for Day trade or near term comes at 1.5265
- Target  for longer term players and the next decision making point for me will be the 1.5325/50 area .  
---------------------------------------------------------------------------------------------------------
---------------------------------------------------------------------------------------------------------