Shares of Advanced Micro Devices AMD slipped more than 4.5% in morning trading Monday after a new report suggested that the company will not, in fact, strike a licensing deal with Intel INTC. Speculation about the possibility of a deal has inspired most of AMD's price action over the past week, but it looks like the rumor is starting to fade.
Nevertheless, Intel and AMD remain two of the most popular semiconductor stocks—a space that has continued to thrive this year. Increased demand from several upstart consumer trends—including the Internet of Things, PC gaming, and self-driving cars—has breathed new life into this classic investor-favorite industry (also read: How to Invest in the "Internet of Things").
So with an Intel-AMD deal presumably not materializing, the two chipmakers continue to be competitors with entirely different stories. Intel is still the industry behemoth looking to maintain its top-dog status, while AMD is a compelling growth story with tons of investor interest.
But despite their differences, we can't forget that AMD is basically the only significant rival to Intel in the market for x86-based microprocessors.
And while their rivalry certainly doesn't preclude an investor from holding both stocks, it's always interesting to put two competitors head-to-head. After all, some of us may want a more diversified portfolio.
If you think you only have enough room for one of these stocks, let's take a look at which one is the better buy right now.
Head-to-Head
As we jump into our head-to-head comparison of Intel and AMD, let's check out a few key stats from both companies: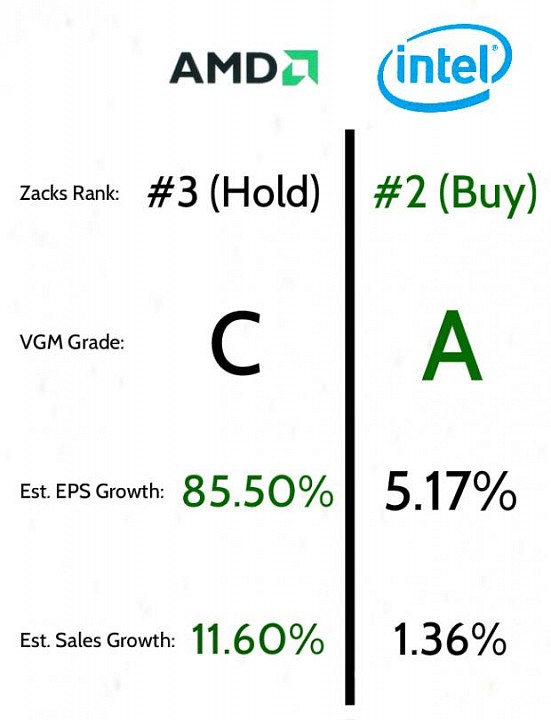 As we can see right off the bat, Intel has the edge in our key Zacks metrics. Thanks to a whopping 14 positive revisions to its full-year EPS estimate within the past 30 days, Intel has earned a Zacks Rank #2 (Buy). The stock is also displaying solid fundamental strength, as displayed by its "A" grade in our overall VGM category.
And while AMD has seen four positive full-year earnings estimate revision within the same timeframe, its Zacks Rank is being held down a bit by the one negative revision is has also seen.
Furthermore, Intel has been a consistent overachiever recently, surpassing the Zacks Consensus Estimate by an average of nearly 7% in each of the trailing four quarters. On the other hand, AMD—which is a loss-making company at the moment—has only matched the Zacks Consensus Estimate over the last two quarters.
Still, it's easy to see why AMD is a popular stock right now. Our current consensus estimates would represent full-year EPS growth of more than 85% on sales growth of nearly 12%. That's the kind of impressive growth that gets investors excited. In contrast, Intel looks to be growing at a slower pace, which makes sense for a company of its size and stature.
Heading forward, the success of each company will depend on the quality of their products and the demand of their customers. There are plenty of opportunities for semiconductor manufacturers, and there should be enough demand to go around, but growth will depend on producing and marketing the right tech at the right time.
Want more stock market analysis from this author? Make sure to follow @
https://twitter.com/Ryan_McQueeney
on Twitter!
Zacks' 2017 IPO Watch List
Before looking into the stocks mentioned above, you may want to get a head start on potential tech IPOs that are popping up on Zacks' radar. Imagine being in the first wave of investors to jump on a company with almost unlimited growth potential? This Special Report gives you the current scoop on 5 that may go public at any time.
One has driven from 0 to a $68 billion valuation in 8 years. Four others are a little less obvious but already show jaw-dropping growth. Download this IPO Watch List today for free >>
Want the latest recommendations from Zacks Investment Research? Today, you can download 7 Best Stocks for the Next 30 Days.
Click to get this free report
Advanced Micro Devices, Inc. (AMD): Free Stock Analysis Report
Intel Corporation (INTC): Free Stock Analysis Report
To read this article on Zacks.com click here.
Zacks Investment Research