U.S. And Canadian Mint Dysfunction Snowballs As Silver Coin Premiums Rise by Clint Siegner, Money Metals Exchange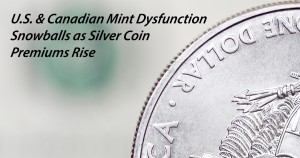 Lower precious metals prices on Wall Street aren't necessarily bringing lower prices on Main Street.
The retail market for gold and silver coins, bars, and rounds has been swamped with high demand since mid June. Both the U.S. Mint and the Royal Canadian Mint continue to run into serious issues keeping up with retail silver coin demand.
After selling out in early August, the U.S. Mint resumed deliveries of Silver American Eagles, but it has since been rationing them out. And this week brings word of new silver supply-chain problems. Mint officials let it be known they are cutting further back on Silver Eagle shipments, reducing them as much as 20% below already insufficient levels.
Dealers already had some catching up to do, and similar news from the Royal Canadian Mint (RCM) late last week won't help either.
RCM officials announced significant "problems" with sourcing silver blanks for production of the Silver Maple Leaf. At least one major wholesaler stopped accepting new orders for the popular coin all together.
The one-two punch of U.S. Mint and RCM rationing and production breakdowns promises to keep buy premiums elevated and cause shipping delays on most government-minted silver coins for the foreseeable...
More