Trade with confidence. Are you a professional trader? Be the first to get the alert with Benzinga Pro's real-time newsfeed and audio squawk and never miss an opportunity again.
Don't miss the chance to try it FREE today.
After two weeks of feverish earnings activity, investors approach the coming week still looking for direction. Earnings so far haven't really set a consistent tone, and the market seems adrift, awaiting a catalyst to either take the S&P 500 Index (SPX) convincingly above 2100 or back toward technical support at 2050.
Looking at earnings to date, financials seem to have done well, the techs kind of disappointed, and other sectors are more question marks than anything else. There just hasn't been a lot of clarity, though strong earnings from McDonald's Corporation MCD 0.44% on Friday would seem to indicate that consumers are doing well. If there's a theme to earnings season so far, it seems like the bigger companies selling to other companies, like Caterpillar, Inc. CAT 1.75% and International Business Machines IBM 0.74%, are the ones that are struggling, and companies that sell more directly to consumers are doing a little bit better. That's an early trend, so let's see if it continues.
There will certainly be plenty of opportunities for investors to watch earnings trends in the coming week, with quarterly reports dominating the action day in and day out. Some of the key earnings to watch include Lockheed Martin Corporation LMT 0.45%, AT&T Inc. T 0.3% and Apple, Inc. AAPL 0.72% on Tuesday; The Boeing Company BA 0.99% and Facebook, Inc. FB 1.04% on Wednesday; Ford Motor Company F 0.9% and Amazon.com, Inc. AMZN 0.27% on Thursday, and Exxon Mobile Corporation XOM 1.28% on Friday. And that list only skims the surface.
As we noted last week, Facebook earnings may get extra focus after weak earnings from other "FANG" stocks like Netflix, Inc. NFLX 1.35% and Alphabet Inc GOOG 0.08%. The question is whether the tech/social media sector may be starting to slow down. Apple earnings, which come Tuesday afternoon, one day later than originally scheduled, always represent something of an earnings season milestone. The stock has been weak lately on concerns about possible weaker smartphone demand. Apple faces a tough comparison to the year-ago quarter and questions about how it's doing in China.
The coming week is also highlighted by data, including consumer-related numbers (see below). Friday marks the release of the personal consumption expenditures (PCE) price index, an inflation marker closely watched by the Fed.
Speaking of the Fed, it meets next week, but no surprises are expected. (see below).
In another development, the dollar continued to gain against the yen Friday, coming back from recent weakness. As of midday, the dollar was trading above 111 yen, its highest level since the start of the month. The dollar strength came after media reports suggested possible further stimulus from the Bank of Japan.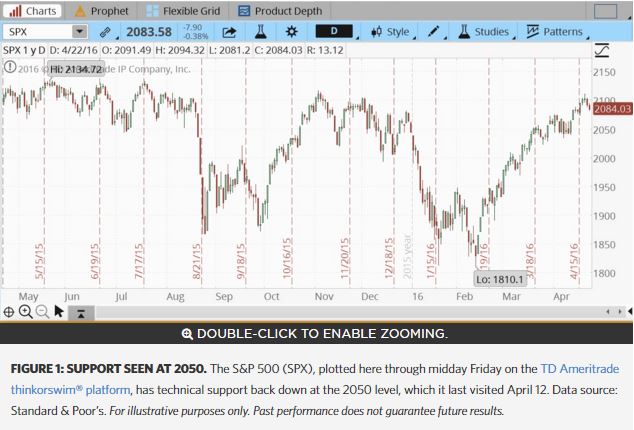 Fed Meeting? Ho Hum: Almost lost amid all the earnings and other data this coming week is a scheduled Fed meeting Tuesday and Wednesday. The last Fed meeting was a big topic of discussion on the Street, but this one seems anti-climactic by comparison. There's an absolutely zero percent chance of a rate hike at this meeting, according to Chicago Mercantile Exchange (CME) Fed Funds futures. Chances of a hike rise to 19% at the June meeting and 36% at the July meeting, according to the futures market. Also, there's no press conference scheduled for after the April meeting, another reason why this one seems a bit unexciting compared with the last.
Energy Earnings Looming: This coming week marks earnings from some of the heavier hitters in energy and energy services, including Halliburton Company XOM 1.28% and Chevron Corporation CVX 1.02% on Friday. A number of other energy names also report. It could be interesting for investors to get a sense of how the sector was affected in the first quarter by the lowest oil prices in a decade, weakness in the Chinese economy, and a stronger dollar. Earnings are expected to tumble year over year for all four of the companies mentioned above, according to consensus views. But some of the weak fundamentals affecting first-quarter earnings, particularly oil under $30, are in the rear-view mirror. With that in mind, it could be more interesting to hear what executives have to say about the current situation and whether they're feeling more optimistic.
Let's Hear From the Consumer: Investors who watch consumer trends could get a better feel for things next week as a couple of key consumer-related reports are due. March new home sales are scheduled for Monday morning, followed by consumer confidence Tuesday morning. Last week, existing home sales spiked more than 5%, but housing starts disappointed. New home sales in February rose 2%, but remember, much of the strength was concentrated in one region: the West. Sales fell sharply in the northeast and Midwest, so we'll find out Monday if there was any improvement in those regions as the weather got warmer.
Market volatility, volume, and system availability may delay account access and trade executions.
Past performance of a security or strategy does not guarantee future results or success.
Options are not suitable for all investors as the special risks inherent to options trading may expose investors to potentially rapid and substantial losses. Options trading subject to TD Ameritrade review and approval. Please read Characteristics and Risks of Standardized Options before investing in options.
Supporting documentation for any claims, comparisons, statistics, or other technical data will be supplied upon request.
The information is not intended to be investment advice or construed as a recommendation or endorsement of any particular investment or investment strategy, and is for illustrative purposes only. Be sure to understand all risks involved with each strategy, including commission costs, before attempting to place any trade. Clients must consider all relevant risk factors, including their own personal financial situations, before trading.
TD Ameritrade, Inc., member FINRA/SIPC. TD Ameritrade is a trademark jointly owned by TD Ameritrade IP Company, Inc. and The Toronto-Dominion Bank. © 2016 TD Ameritrade IP Company, Inc. All rights reserved. Used with permission.
© 2016 Benzinga.com. Benzinga does not provide investment advice. All rights reserved.