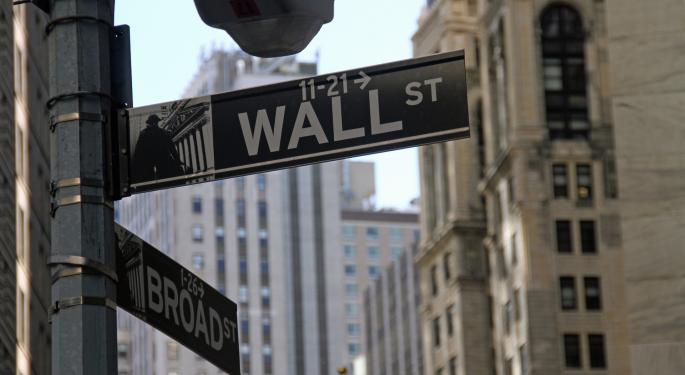 The U.S. stock market was slightly lower on Monday as the Dow and S&P 500 continue to trade near all-time high levels.
Most of the major sectors were actually positive on the day, led by energy which jumped nearly 1 percent. Losses in the healthcare sector, however, weighed on the broader market with healthcare stocks shedding almost 1 percent on the day.
Big gainers included Mattress Firm Holding Corp MFRM 114.36%, which jumped 114 percent after a buyout offer, and Sothebys BID 13.04%, which climbed 13 percent after a strong earnings report. Losers included Liberty Global plc LILAK 11.77%, which fell almost 12 percent, and Five Prime Therapeutics Inc FPRX 9.23%, which fell more than nine percent on sector weakness and profit-taking.
Major Averages
The Dow Jones Industrial Average lost 14 points, or 0.08 percent, to 18,529 on the day.
The S&P 500 fell less than 2 points, or 0.09 percent, to 2,181.
The Nasdaq shed 8 points on the session to close at 5,213.
Commodities
The commodity complex was higher, with the Bloomberg Commodity Index gaining 0.55 percent in afternoon trading.
NYMEX crude oil futures climbed 2.58 percent to $42.88 while Brent contracts rose 2.08 percent to $45.19.
Precious metals were slightly lower on Monday. COMEX gold futures were last down 0.25 percent to $1,341.10. The SPDR Gold Trust ETF GLD 0.09% shed 0.09 percent to $127.44. Silver futures fell 0.31 percent to $19.76 on the day. The iShares Silver Trust ETF SLV 0.16% added 0.16 percent to $18.74.
In the grains complex, corn and wheat were both slightly higher during Monday's trading session. Corn futures rose 0.15 percent to $3.3475 while wheat contracts added 0.24 percent to $4.1700.
Bonds
Treasury prices were slightly higher on Monday. At the close of equities, the iShares Barclays 20+ Year Treasury Bond ETF TLT 0.19% was up 0.19 percent to $138.26.
Treasury yields were as follows: The yield on the 2-Year Note was 0.74 percent. The 5-Year Note was yielding 1.15 percent. The 10-Year Note was last yielding 1.59 percent while the 30-Year Bond yield was 2.30 percent.
Currencies
The U.S. Dollar was slightly higher. The PowerShares DB US Dollar Index Bullish ETF UUP 0.08%, which tracks the performance of the greenback versus a basket of foreign currencies, traded up 0.08 percent to $24.90. The closely watched EUR/USD pair fell 0.05 percent to 1.1081 euros.
Volatility and Volume
The CBOE Volatility Index (VIX) was up 1.23 percent on the day to 11.53. The VIX remains near its 52-week low as market volatility expectations remain muted.
Volume was very light on Monday with around 36 million shares of the SPDR S&P 500 ETF SPY 0.06% trading hands versus a 3-month daily average of just under 96 million shares. Trading in the PowerShares QQQ Trust QQQ 0.11% was also below average with just 11 million shares trading hands compared to a 3-month daily average of almost 24 million.
© 2016 Benzinga.com. Benzinga does not provide investment advice. All rights reserved.