In what may be the funniest bit of economic humor uttered today, funnier even than the deep pontifications at Jackson Hole (where moments ago Stanley Fischer admitted that "research is needed for a better inflation indicator" which means that just months after double seasonally adjusted GDP, here comes double seasonally adjusted inflation), in an interview with Swiss newspaper Le Temps (in which among other things the fake-bronzed IMF head finally folded and said a mere debt maturity extension for Greece should suffice, ending its calls for a major debt haircut), took some time to discuss China.
This is what she said.
Turning to China, Lagarde said she expected the country's economic growth rate to remain close to previous estimates even if some sort of slowdown was inevitable after its rapid expansion.

 

China devalued its yuan currency this month after exports tumbled in July, spooking global markets worried that a main driver of growth was running out of steam.

 

"We expect that China will have a growth rate of 6.8 percent. It may be a little less." The IMF did not believe growth would fall to 4 or 4.5 percent, as some foresaw.
Actually, some - such as Evercore ISI - currently foresee China's GDP to be negative, at about -1.1%.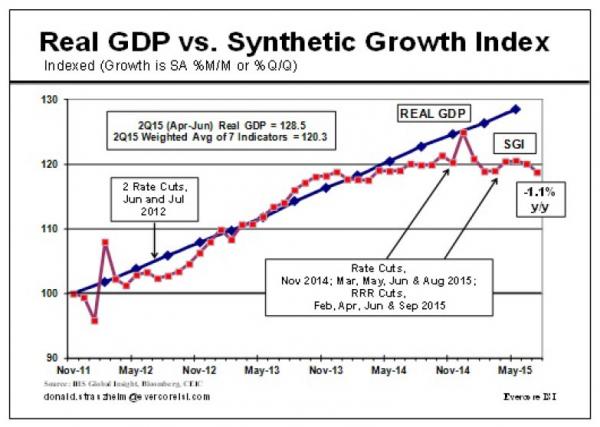 But the funniest part was this: "The slowdown was predictable, predicted, unavoidable," Lagarde was quoted as saying."
Well, yes, here is China's Caijing quoting Zero Hedge some time in 2012, explaining that China has "the world's largest credit bubble." Incidentally, it was back in 2012 that we warned "that all platitudes of the Richard Koos aside and Paul Krugmans, who demand ever more debt, the developed world is at its debt capacity."
Three years later McKinsey admitted just that in one the most "shocking" pieces of economic analysis released in years, showing that global debt had risen by $57 trillion to $200 trillion since the first great financial crisis, which incidentally is why global growth is no longer possible in a world in which only incremental debt creation fuelled growth for decades.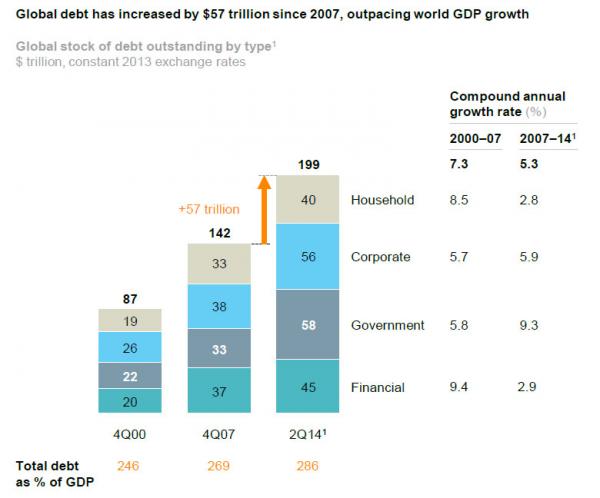 But going back to Lagarde's sstatement that China's "slowdown was predictable, predicted", we just want to add that - yes, it was... by everyone but the IMF.
Here is the history of the IMF's Chinese GDP growth forecasts taken straight from its World Economic Outlook quarterly pieces. The graph, also known in Excel as "the dying hockeystick" needs no explanation.