When it comes to President Donald Trump's plans to bring down drug prices, the market has come to its own conclusions.
Once, two sentences in a 6,500-word Time "Person of the Year" profile was enough to send the biotech and pharmaceutical sectors sinking.
But since Trump's late January meeting with pharmaceutical executives, investors have done an about-face on the sector.
SPDR S&P Pharmaceuticals ETF XPH, -2.01% shares had sunk nearly 9% in three weeks after Trump said drug companies were "getting away with murder" and that bidding could bring prices down.
But after the president's pharmaceutical meeting, when Trump said again that drug prices needed to be lower but appeared to back away from negotiating them, the sector ETF rebounded.
The SPDR S&P Pharmaceuticals ETF's trajectory in the month since has gone steadily up, an 11.8% surge.
Related: President Trump says he wants to bring down drug prices — and uses aspirin as an example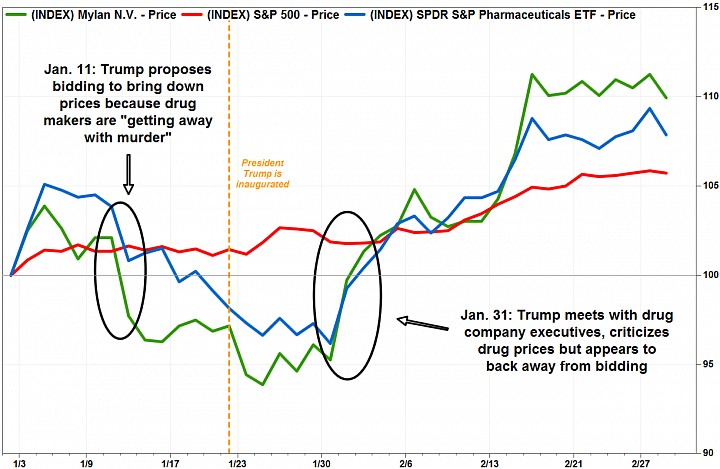 Though Trump said drug prices were "astronomical" at the late January meeting, and later that day White House press secretary Sean Spicer reasserted interest in negotiating drug prices, the key takeaway for many has been the president's focus on what other countries pay for drugs.
Other countries, many...
More