With the split of Hewlett-Packard Co. (HPQ), Meg Whitman is inheriting the businesses poised for the greatest growth -- and some of the technology industry's biggest challenges.
The Palo Alto, California-based company announced the breakup yesterday, saying Whitman will lead a new entity called Hewlett-Packard Enterprise that will focus on corporate hardware and services. The other, named HP Inc. and where Whitman will take on the chairman title, will sell personal computers and printers.
Hewlett-Packard Enterprise will give Whitman a portfolio of higher-margin businesses, such as software, which are under less pricing pressure compared with hardware and can be built up with acquisitions. Hewlett-Packard also leads the market in some enterprise products, such as server computers.
Yet the new company also contains the legally-embattled Autonomy software business. Half of the new company's sales come from the services unit, where revenue has been falling. And Whitman will have to fund any expansion with less cash, since she is splitting off the printer unit that generates a large chunk of Hewlett-Packard's total operating income.
More broadly, Whitman's new company will grapple with a formidable and lengthy list of rivals:International Business Machines Corp. (IBM), Dell Inc. and Oracle Corp. in servers; Cisco Systems Inc. in networking gear such as routers and switches; and IBM in services. Security and data software are also full of nimbler startups like Splunk Inc. and FireEye Inc. (FEYE)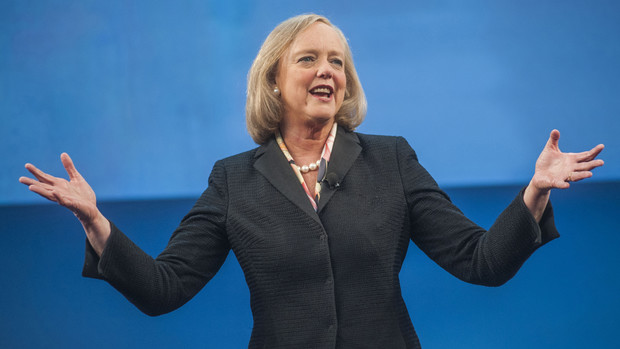 With Courage
"This takes clear thinking and a little bit of courage," said Bill Veghte, a Hewlett-Packard executive vice president who will stay in the enterprise company.
In an interview yesterday, Whitman said the rapidly moving enterprise market helped spur the split-up, in an effort to make the businesses more focused and nimble. She said she was committed to the new company's business as being a combination of software and hardware offerings.
"What has been surprising is how fast the enterprise space is moving," Whitman said. "One of the things that we concluded was that nimbleness and speed is going to be an important part of the future."
She added that "even in a software-defined world, you want to make sure you've got great hardware to run your software."
EMC Talks
The shape of the new company may change if Hewlett-Packard concludes a deal with storage makerEMC Corp. (EMC), which it held talks about acquiring, people familiar with the discussions said last month. The conversations included the idea of separating out Hewlett-Packard's printer and computer business, one of the people has said.
That has some analysts viewing the breakup as clearing the way for an EMC deal.
"This needed to happen before something like EMC could happen," said Daniel Ives, an analyst at FBR Capital Markets & Co., who added that Hewlett-Packard and EMC are engaged in a "high stakes game of poker" over price.
In a conference call yesterday, Whitman didn't directly address EMC and said a split of Hewlett-Packard would be complicated, but that the companies will then "be free to have their own M&A strategy."
Dave Farmer, a spokesman at Hopkinton, Massachusetts-based EMC, declined to comment.
Margin Boost
In total, the margins for Hewlett-Packard's servers, storage and networking business was 15.3 percent in 2013, down from about 20 percent in 2011, but still above the PC business's margin of 3 percent. The software business had margins of 22 percent.
The units that will make up the new Hewlett-Packard Enterprise generated about $59.2 billion in revenue for fiscal 2013, or about half of total sales.
To boost the enterprise business, Hewlett-Packard has been trying to get into faster-growing technology areas like security, data-analysis tools and Internet-based cloud software.
In July, Hewlett-Packard invested $50 million in Hortonworks Inc., which makes software for processing large data sets via a technology named Hadoop. In 2011, it acquired Vertica, which also helps customers analyze large volumes of data. Last month, it unveiled two servers using energy-efficient chips to expand the use of its products in cloud and scientific environments.
Downward Trajectory
Still, the enterprise business faces challenges, with revenue from services, software, servers and storage declining for the past two fiscal years. The $59.2 billion in revenue in fiscal 2013 was down from about $63.3 billion in fiscal 2012 and $64.7 billion in fiscal 2011, according to data compiled by Bloomberg.
The software business has also been overshadowed by lawsuits and charges related to Autonomy, the company that former CEO Leo Apotheker purchased in 2011 and which Whitman later wrote down amid allegations of fraud. Software revenue declined 3.6 percent to $3.91 billion in 2013 after posting a 21 percent increase the prior year.
The company needs "to fix its software business or it is toast," Glenn O'Donnell, an analyst at Forrester Research, wrote in a note.
In the services unit, largely acquired from Electronic Data Systems Corp., revenue has also declined for the past two years. While Hewlett-Packard leads in the server market, that industry has faced tepid growth, rising 1.2 percent in the second quarter, according to IDC. Rivals are also making cheaper, generic servers manufactured in Asia.
The company's storage business, which is based largely on Hewlett-Packard's 2010 purchase of 3Par Inc., makes the company the No. 4 external storage vendor in the second quarter, according to IDC. That business has also declined in the past two years.
More Focus
At the end of the day, the split is Whitman's best shot at regaining discipline, said Jayson Noland, an analyst at Robert W. Baird & Co.
"When you're the size of HP with all these completely different businesses, it's really hard to be nimble and focused and this is the most logical way to do it," Noland said of a split. "It's not without risk."
Both new companies that will be created by Hewlett-Packard are well set up for success, Veghte said, adding that executives studied spinoffs at companies like AT&T Inc. and Tyco International Ltd.
"There are two Fortune 50 companies and both are generating $5 billion plus of operating profit," he said. "These are companies that are strong in their own right for their position and purposes."