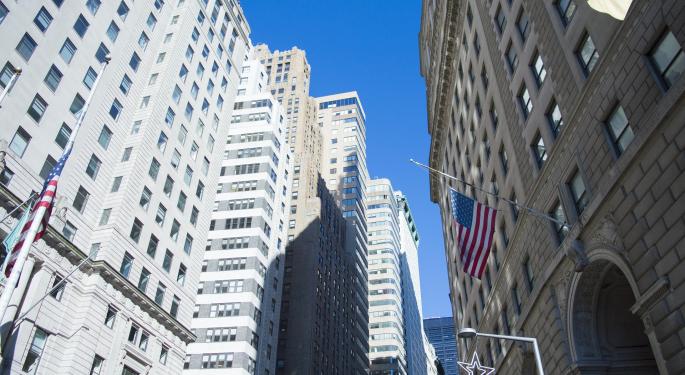 Below is a tool used by the Benzinga News Desk each trading day -- it's a look at everything happening in the market, in five minutes. Apply for daily AM access by clicking here or email minutes@benzinga.com.
Macro Focus
U.S. stocks were poised to open lower Tuesday, on the heels of record closes for major indexes, as investors braced for a big batch of earnings. The S&P 500 and the Dow industrials finished Monday's session with small gains, but at all-time closing highs.
"Fresh records could be hard to carve out Tuesday, with European stocks firmly in the red in mid-morning action," MarketWatch noted. "The German ZEW economic sentiment survey fell to its lowest since 2012 on Brexit fears."
Oil prices traded higher as Brent crude futures rose 0.06 percent to trade at $46.99 per barrel, while US WTI crude futures also gained 0.04 percent to trade at $45.26 a barrel.
USA Housing Starts (MoM) for Jun 4.80% vs 0.50% consensus estimate. USA Building Permits for Jun 1.15M vs 1.15M consensus estimate.
The Treasury is set to auction 4-week and 52-week bills at 11:30 a.m. ET.
BZ News Desk Focus
Some of last night's and this morning's notable earnings:
IBM IBM Reports Q2 EPS $2.95 vs. Est. $2.89, Rev. $20.24B vs. Est. $20.03B
Netflix NFLX Reports Q2 EPS $0.09 vs. Est. $0.02, Rev. $2.105B vs. Est. $2.11B
Yahoo YHOO Reports Q2 EPS $0.09 vs. Est. $0.10, GAAP Sales Excluding Traffic Acquisition Costs $842M Which May Not Compare to $1.08B Est.
Steel Dynamics STLD Reports Q2 EPS $0.58 vs. Est. $0.56, Rev. $2B vs. Est. $2.04B
Johnson & Johnson JNJ Q2 EPS $1.74 vs $1.68 est, Revenue $18.5B vs $18.0B est
Philip Morris PM Reports Q2 Adj. EPS $1.15 vs $1.20 Est., Q2 Sales Ex Excise Taxes $6.6B vs $6.77B Est.
When asked to judge the report, billionaire Mark Cuban told Benzinga he looks at Netflix much like he does Amazon AMZN. "I'm not worried about quarter to quarter fluctuations," Cuban said in an email. "They continue to dominate the content and consumer delivery for over the top."
When asked about the unexpected churn in Netflix's Q2, Cuban said, "They are still in start up mode which is exactly where they should be. The day they manage for earnings, is the day I sell the stock."
See Also: Exclusive: Mark Cuban Compares Netflix To Amazon, Says It Has Multiple Untapped Levers
Sell-Side Themes
Scoiete Generale downgraded Halliburton HAL to Neutral and upgraded Schlumberger SLB to Buy.
Sell-Side's Most Noteworthy Calls
JPMorgan downgraded Michaels MIK to Neutral.
Atlantic Equities downgraded Oracle ORCL to Neutral.
CLSA upgraded Chipotle (NYE:CMG) to Outperform.
Piper Jaffray upgraded Hasbro HAS to Overweight.
JPMorgan initiated Mobileye MBLY at Neutral.
Baird started Tesaro TSRO at Outperform.
Deal Talk
Yahoo CEO Marissa Mayer said the company has no announcement yet on the sale of its core business. Final bids were due on Monday.
Shares of Tronox TROX rose Monday on a report from DealReporter that said the company was exploring a sale. Tronox didn't respond to a request for comment.
Corvex Management LP, the activist fund run by former Carl Icahn protégé Keith Meister, has amassed small stakes in U.S. seeds company Monsanto MON and its aspiring acquirer, Germany's Bayer, people familiar with the matter told Reuters. Corvex, which also owned Monsanto stock two years ago, would favor a sale to Bayer for a rich enough price, said the people.
In The News
On the first night of Donald Trump's convention, Republicans assailed Hillary Clinton for the 2012 Benghazi attack, immigration and recent killings of police officers—hours after hundreds of delegates shouting for a roll-call vote to disrupt his nomination walked off the floor.
Some Wal-Mart WMT shoppers in Canada can no longer use their Visa V cards -- and the change will roll out across the rest of Walmart's stores in Canada in the near future. The companies are tussling over the fees that retailers pay every time a shopper uses their card. Walmart says the fees it pays Visa in Canada are four times higher than in other countries.
Blogosphere
Pitching two stocks for a REIT investment fund Interview and I've never pitched/modeled before. What should I do?
Trending
NFLX JNJ IBM LN LMT UNH YHOO PM JBHT QIHU CSCO MTG ERIC STLD EMC CMA BABA [Stocktwits]
#RNCinCLE Melania Trump's keynote speech apparently contained passages that were the same as parts of the convention speech that future First Lady Michelle Obama gave in 2008.
© 2016 Benzinga.com. Benzinga does not provide investment advice. All rights reserved.