Just a month ago, Goldman Sachs' head progonsticator David Kostin went full bulltard, telling clients to buy high-beta, high-momentum stocks because (paraphrasing) "hedge funds suck" and will need to play catch-up. Today, his tune has changed. The "dash-for-trash" meme has outperformed dramatically in the last few years as Fed experimentation breathed life into the zombie-est weak-balance-sheet companies and traders rode that artificial wave. However,as Kostin notes, tightening financial conditions have the greatest impact on firms with high leverage and weak balance sheets; and thus, with the Fed more biased towards tightening than loosening (and the market discounting that), the "dash-for-trash" is over (as we noted in July).
The "Dash-for-Trash" trade has worked well.. until recently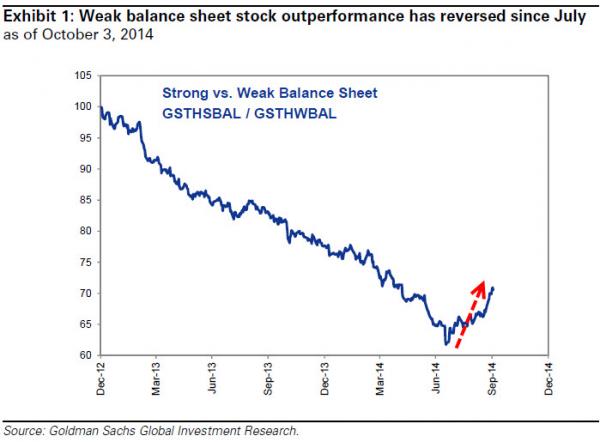 Via Goldman Sachs' David Kostin,
The slip in S&P 500 coincided with a further tightening in the Goldman Sachs financial conditions index (FCI). FCI started tightening in mid-July from a post-financial crisis low. FCI provides an aggregated view of the financial environment in which US firms operate. The index incorporates eight variables: the federal funds rate, 5- and 10-year Treasury yields, the TED spread, nonfinancial BBB credit spreads, equity levels normalized to earnings, the house price-to-rent ratio, and the trade-weighted US dollar.
Financial conditions usually tighten for one of two opposing reasons: (1) financial market frictions make credit more costly, or (2) improving economic growth drives interest rates higher. In the first scenario the FCI tightens while Treasury rates decline amid slowing growth and flight to quality, as was the case this past week. In the second scenario the FCI tightens and Treasury rates rise amid positive growth impulses.
Our macro forecasts suggest financial conditions will tighten during the coming year as the Fed hikes rates and the dollar strengthens. By yearend 2015, we expect 5-year Treasury rates will rise to 2.8% (from 1.7%), tenyear yields will climb to 3.5% (from 2.5%), and fed funds will increase to 75 bp following a first Fed rate hike in 3Q 2015. We forecast the trade-weighted dollar will strengthen by 4.5% during the same time period.
Tightening financial conditions particularly affect firms with weak and highly levered balance sheets given these firms have less capacity to withstand rising capital costs.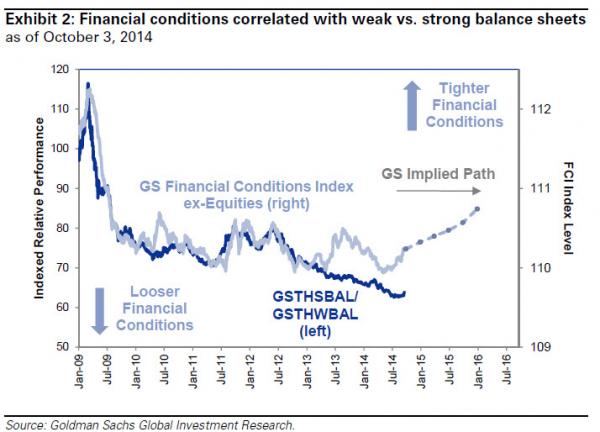 Exhibit 2 shows the tight correlation between the FCI and a long/short trade of our weak versus strong balance sheet baskets. All but one firm in our 50-constituent strong balance sheet thematic portfolio are rated investment grade or have no long-term debt. The median credit rating is AA-. In contrast, about one-third of the firms in our weak balance sheet basket have high yield ratings. The portfolio's median credit rating equals BBB.
Weak balance sheet stocks have lagged strong balance sheet firms by 380 bp since mid-July, consistent with FCI's tightening since that time. The reversal ended a stunning, nearly uninterrupted 48 percentage point outperformance trend of weak vs. strong balance sheet stocks during the prior two years (93% vs. 45%, respectively, compared with 52% for S&P 500).
Given our view that US financial conditions will gradually tighten over the coming years, we close our long weak vs. short strong balance sheet trade recommendation. Historical analysis shows that during periods when the FCI tightens concurrently with rising 10-year yields, strong balance sheet stocks slightly outpace weak balance sheet firms. 
*  *  *
Of course, this is no surprise since in July we warned the "dash for trash" trade was over...