GOLD: Continue downwards…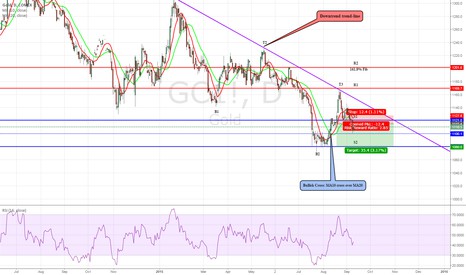 The Daily trend is in a Downtrend technically indicated by following:
• Dow pattern- lower tops and lower bottoms (T1-B1-T2-B2).
• Price is currently trading BELOW the downtrend line.
The downtrend is confirmed from the MAs. Bearish cross observed- MA 10 cross under MA20.
RSI:
• RSI is JUST BELOW the equilibrium level- 50. Bearish Momentum.
Generally, the main long-term trend has favoured the downside. Keep in mind that the near-term trend push upward higher and might clears trend-line resistance - is likely to appear as a corrective move or as a trend reversal-.
Therefore, we will recommend SHORT POSITIONS for the no position holders on GOLD in case of a move BELOW the S1 at 1121.00. Take profit at 1080.50 (S2) and stop loss should be a bit above the S1, thus the stop loss is at 1128.30.
For Short-holders we will recommend to HOLD their short positions and adopt the same stop loss and take profit orders as mentioned above.
Otherwise, a move above the S1 at 1130.00 confirms that prices may move upwards and might challenge the downtrend trend-line. In this case we will recommend long positions. Take profit at 1169.70 (R1) and take profit-2 at 1200.00 (R2) the 161.8% Fib. Stop loss should be a bit below the S1, thus the stop loss is at 1110.90.