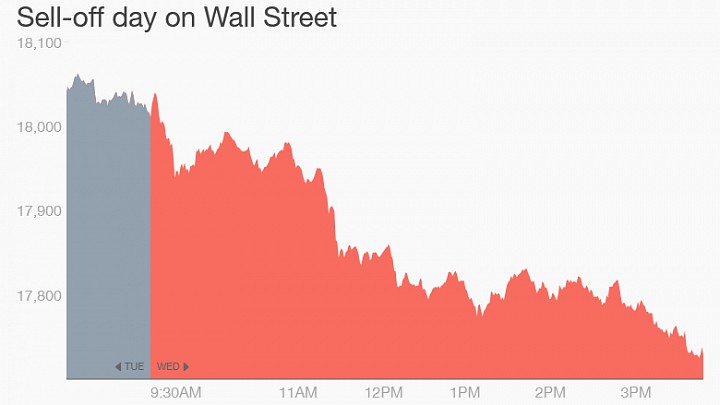 The Dow dropped 292 points and the S&P declined almost 1.5% after the latest in a long line of alarming economic reports this Wed .
The tech-heavy (NASDAQ:NASDAQ) tumbled over 2.3% -- its biggest drop in nearly a year -- as investors worry that biotechs may be overvalued . Even there is a high Sell-off this wed but KRFT is doing it's all time good with more than 40% rise after the news of merging .
For weeks the stock market rallied because investors saw every economic speed bump as an indication the Federal Reserve would keep interest rates extremely low for longer and longer.
That annoying and somewhat perverse trend ended on Wednesday, at least temporarily.
Joe Saluzzi, co-head of trading at Themis Trading
"You're at a point now where you can no longer say bad news is good news. That's not working anymore. You've got to show some growth here,"
All due to Biotech bust:  The iShares Nasdaq Biotechnology ETF (NASDAQ:IBB) retreated over 3% and individual names like Biogen (NASDAQ:BIIB)  and Regeneron (NASDAQ:REGN)  fell even harder.
Luschini said:
"We have the view that the biotech sector has risen to the point where valuations seem egregiously high to us," . That makes the group "vulnerable to a rather severe setback."
Readers on BCC comments :
"Last September all indexes were very high, commodities, stocks, housing (at least here in Texas). The Fed kept the pedal to the metal driving interest rates effectively to 0. Then oil began to plunge in price followed by all other commodities, now real estate is taking hits and earnings apparently are going down. What could it mean? What makes me angry is the way the conservatives in congress have cut back on spending which could have helped the economy, but what do you expect from people who only got as far as Adam Smith in high school economics?"