The Coca-Cola Company KO reported better-than-expected third-quarter 2017 results. Despite reporting flat soda volumes, the coal giant gained from higher demand for Sprite, tea and coffee. Again, cost-cutting initiatives led by the refranchising of its low-margin bottling operations helped it to come up with better numbers.

Earnings Beat

Third-quarter 2017 adjusted earnings of the company were 50 cents per share, surpassing the Zacks Consensus Estimate of 49 cents by 2%.

Earnings also improved from the year-ago profit level of 49 cents helped by ongoing productivity efforts.

Sales Discussion

Net revenues, however, declined 15% year over year to $9.1 billion due to the negative impact of structural items, marking the 10th consecutive quarterly decline in revenues. Acquisitions/divestitures and structural items had a 18% impact on revenues, partly offset by 3% positive contribution of price/mix. The structural changes primarily include the impact of bottler refranchising efforts.

Revenues, however, surpassed the Zacks Consensus Estimate of $8.8 billion.
Coca-Cola Company (The) Price, Consensus and EPS Surprise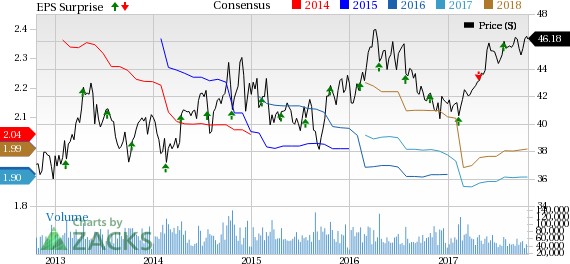 Coca-Cola Company (The) Price, Consensus and EPS Surprise | Coca-Cola Company (The) Quote
Volume and Pricing

Coca-Cola's total unit case volume remained unchanged with no growth in the quarter (similar to the preceding quarter). Unit case volume continued to be impacted by macroeconomic headwinds in some Latin American markets. That said, emerging and developing markets saw some improvements with minor positive unit case volume growth. However, developed markets were negatively impacted by the weather and the cycling of strong results from the prior year.

Category Cluster Performance: Sparkling beverage unit case volume remained unchanged. Juice, dairy, and plant-based beverages witnessed 1% growth. Water, enhanced water, and sports drinks were down 1% and Tea and Coffee was up 1%.

Quarterly Segment Details

Revenues grew 3% at the North America segment, 6% at Europe, Middle East & Africa, and 7% at Latin America. However, revenues declined 2% in the Asia Pacific segment.

Organic revenues grew across the board, increasing 2% in North America, 5% in Europe, Middle East & Africa, 6% in Latin America, 3% in Asia Pacific and 2% in Bottling Investments.

Margins

Adjusted consolidated gross margins expanded 170 basis points (bps) year over year to 62.8%.

The company's comparable operating margin grew 404 bps to 27.4% in the quarter, given the divestitures of lower margin bottling businesses and ongoing productivity efforts.

Comparable income before income tax was up 2.8% to $ 2.9 billion.

Other Developments

The company remains on track to find ways of reducing the amount of added sugar in many beverages around the world and reformulate more than 500 products this year. The performance of Coca-Cola Zero Sugar was solid in the quarter, growing unit case volume by high single digits. By the first quarter of 2018, Coca-Cola intends to introduce the new recipe in Coca-Cola Zero Sugar in all key markets across the world.

Coca-Cola has been focusing more on creating a consumer-centric brand portfolio. The beverage giant made an important addition to its portfolio beyond sparkling soft drinks with the recent acquisition of the Topo Chico premium sparkling mineral water brand in the United States.

Coca-Cola also completed a key ownership transition of bottling assets in Africa in early October. However, the company will temporarily hold these businesses until it finds a suitable refranchising partner.

2017 Guidance Reaffirmed

Organic revenues are expected to rise 3%. Acquisitions/divestitures (mainly the bottler re-franchising efforts) are expected to hurt revenues by 18%, while Fx is likely to have a negative impact of 1% on revenues.

Comparable currency income before income taxes (structurally adjusted) is expected to increase 7-8%. Foreign exchange is expected to hurt comparable income before taxes by 1%. Structural changes are likely to have a 6-7% negative impact on it.

The company expects adjusted EPS to range from even to 2% decline from the prior year's comparable EPS of $1.91.

The company expects to buy back shares worth $2.0 billion in 2017. The adjusted effective tax rate is likely to be 24%.

Zacks Rank

Currently, Coca-Cola has a Zacks Rank #2 (Buy). You can see the complete list of today's Zacks #1 Rank (Strong Buy) stocks here.

Peer Releases

PepsiCo, Inc.'s PEP third-quarter core earnings per share of $1.48 beat the Zacks Consensus Estimate of $1.42 by 4.2%. Core earnings increased 6% year over year, mainly on better operating efficiency. In constant-currency terms, adjusted earnings grew 7%.

Dr Pepper Snapple Group Inc. DPS reported third-quarter earnings per share of $1.10, missing the Zacks Consensus Estimate of $1.15.

Upcoming Peer Release

Monster Beverage Corp. MNST is expected to report quarterly results on Nov 2.

Zacks' Hidden Trades

While we share many recommendations and ideas with the public, certain moves are hidden from everyone but selected members of our portfolio services. Would you like to peek behind the curtain today and view them?

Starting now, for the next month, I invite you to follow all Zacks' private buys and sells in real time from value to momentum...from stocks under $10 to ETF to option movers...from insider trades to companies that are about to report positive earnings surprises (we've called them with 80%+ accuracy). You can even look inside portfolios so exclusive that they are normally closed to new investors.

Click here for Zacks' secret trade>>

Want the latest recommendations from Zacks Investment Research? Today, you can download 7 Best Stocks for the Next 30 Days.
Click to get this free report
Coca-Cola Company (The) (KO): Free Stock Analysis Report
Dr Pepper Snapple Group, Inc (DPS): Free Stock Analysis Report
Pepsico, Inc. (PEP): Free Stock Analysis Report
Monster Beverage Corporation (MNST): Free Stock Analysis Report
To read this article on Zacks.com click here.
Zacks Investment Research