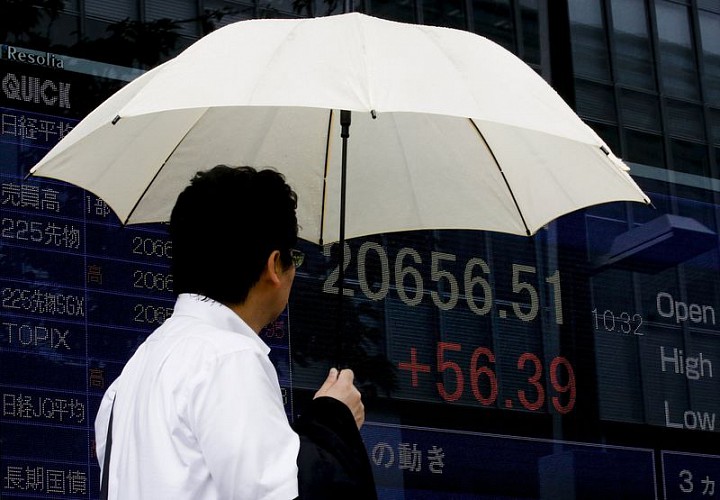 By Wayne Cole
SYDNEY (Reuters) - Asian shares began the week on a plaintive note amid losses on Wall Street and worries over China, while investors braced for a Federal Reserve meeting that might take another small step toward lifting U.S. interest rates.
Japan's Nikkei slipped 0.8 percent in early trade, while MSCI's broadest index of Asia-Pacific shares outside Japan eased 0.2 percent.
Australia's main index fell 0.4 percent as mining stocks struggled with the slump in global commodity prices.
Both copper and the Thomson Reuters CRB commodities index hit their lowest in six years. Early Monday, copper futures were off another 0.29 percent.
The Fed's rate-setting Open Market Committee meets on Tuesday and Wednesday and is considered highly unlikely to lift interest rates just yet, though it does still seem set on a move in September.
"We expect Fed voters to pull the trigger in September, but for the path to interest rate normalization to be a long one given the global risk profile, the lack of inflationary pressure, and concerns over what moving too quickly may do to asset markets, particularly the dollar, and the wider economy," said analysts at Australia and New Zealand Banking Group.
Expectations of a hike has slowly pushed up U.S. Treasury yields and widened the dollar's premium over the euro. Yields on two-year U.S. notes pay around 90 basis points more than German debt, near the widest since early 2007.
That kept the dollar well supported around $1.0972 per euro on Monday, while it was a fraction firmer against a basket of currencies at 97.279.
The dollar was steady on the yen at 123.72 having spent the past few sessions wandering between 123.54 and 124.48.
A first estimate of U.S. economic growth for last quarter is due on Thursday and is expected to show a rebound of 2.7 percent annualized, from the first quarter's weather-induced contraction.
The Dow ended Friday down 0.92 percent, while the S&P 500 lost 1.07 percent and the Nasdaq 1.12 percent. For the week, the Dow fell 2.9 percent while the S&P 500 lost 2.2 percent and the Nasdaq 2.3 percent.
Wall Street has been weighed in part by concerns that a high U.S. dollar and sluggish global demand was pressuring corporate profits, a theme that should wend its way through this week's busy diary of earnings.
As well as blue-chip names such as Pfizer and Exxon Mobil (NYSE:XOM), there are a range of social media stocks that have led the market so far in 2015 including Facebook (NASDAQ:FB), Cigna (NYSE:CI), Twitter (NYSE:TWTR) and LinkedIn.
In the energy market, Brent crude was quoted 11 higher at $54.73 a barrel, but still near its lowest since March. U.S. crude was off a cent at $48.13.
Gold seemed to have steadied after its recent slide, with spot bullion at $1,097.16 an ounce.
More