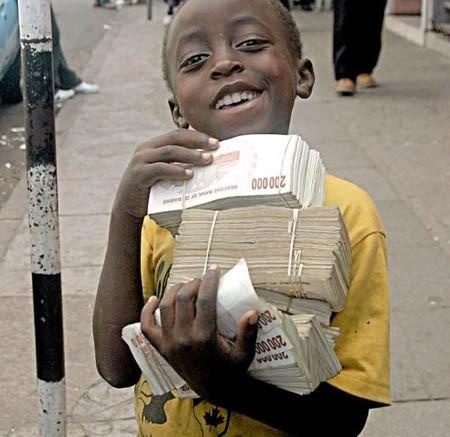 It's a race to the bottom.  
Who will be the first country to begin printing 1M denominations?  We've seen this play out before and it's only a matter of time before one of the Global currencies completely collapses.  The Yen is halfway there with 10,000 Yen notes, just one more zero before they are in stage one of Zimbabwe's 2008 hyperinflation, where the country was forced to print Trillion Dollar notes before they finally gave up, defaulted and revalued their currency.  The boy in the picture needed that money to buy a quart of milk!  
Oddly enough, Japan WANTS more Yen devaluation ASAP and their Finance Minister said just yeasterday that 105 Yen to the Dollar is not enough and they will be forced to devalue if the Yen gets any stronger (and we discussed Yen dynamics in last week's post).  In fact, since last Thursday, our Toyota (TM) trade has already gained $1,275, which is a 566% gain on our net $225 cash outlay in 7 days – the trade idea for our Long-Term Portfolio was:
Sell 5 TM Jan $90 puts for $4.80 ($2,400) 

Buy 5 Jan $100 calls for $7.50 ($3,750) 

Sell 5 Jan $115 calls for $2.25 ($1,125)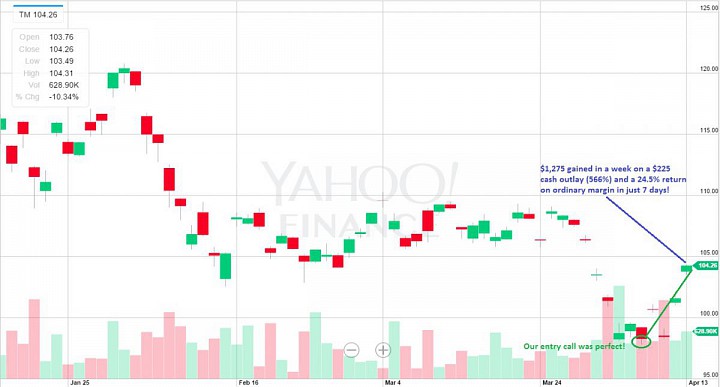 We knew that the BOJ would intervene or at least say they would intervene last week simply because we pay attention to all these boring Fundamentals that most traders ignore (see Thursday's post for my rant on that).  In fact, as I said in the last line of that post:  "That's why an "ugly" chart like TM doesn't bother us – we KNOW what the company is worth, even if our fellow investors do not."  
We still like TM for the long-term, the trade will pay $7,500 if TM finishes the year over $115 and we're confident so you can still make $6,000 (400%) if you take a net $1,500 today – it just sounds kind of lame compared to our $225 entry last week – but that's the difference between taking a fundamentally good entry and waiting for the trend to reverse before buying a stock.  
In yesterday's Live Trading Webinar…
Provided courtesy of Phil's Stock World.