Personal computer sales fell in the third quarter as shipments declined in emerging markets and equipment upgrades prompted by Microsoft Corp.'s operating system phaseout slowed down, according to a pair of data trackers.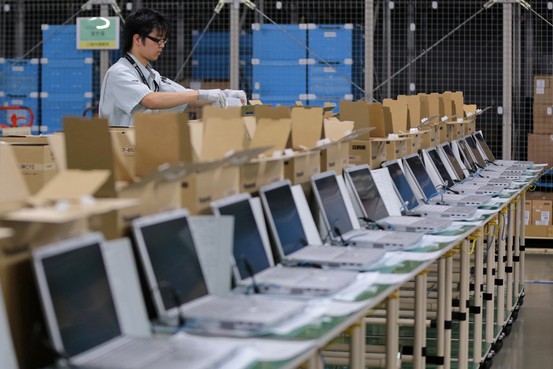 Mature markets continued to show growth, research firms Gartner Inc. and International Data Corp said, with shipments in the U.S. rising about 4%. The companies have been tracking personal computer sales since the 1980s.
Gartner said Wednesday that PC shipments fell 0.5% in the latest quarter, but it pointed at positive results in Western Europe and North America as a possible sign of recovery for the industry.
IDC, meanwhile, estimated the global unit shipments declined 1.7%, better than the firm's earlier forecast of a 4.1% decrease in the quarter.
The top PC makers-- Lenovo Group Ltd., Hewlett-Packard Co. and Dell Inc.--saw significant shipment increases from the year-ago period, the research firms said.
Top-selling vendor Lenovo, both firms said, saw about an 11% rise in shipments, increasing its market share to about 20%.
H-P, which ranks second in PC shipments, grew more than 5% by IDC's account and 4.4% according to Gartner. Dell's growth was estimated at 9.7% by IDC and 9.7% by Gartner.
At Acer Inc., which is heavily oriented toward consumer sales, unit sales rose more than 11%, IDC said, in part because of low sales volume a year ago. Gartner put its sales' growth at 9%.
Closing the top five was Asus, with 17% growth, according to Gartner, or Apple Inc., which IDC said had overtaken Asus thanks to an increase of 8.9%.
Sales of desktop computers and notebook-style laptops have been sluggish in recent years as consumers shifted spending to smartphones and tablets, delaying replacement or giving up on aging PCs.
Conditions, however, improved earlier this year, in part because companies began upgrading their hardware in response to Microsoft's phaseout of technical support for Windows XP in April.
The most recent quarter--historically driven by back-to-school sales and business purchases--benefited from saturation in the tablet market and increased sales of lower-priced notebooks, even as Windows XP upgrades slowed down, the firms said.