Following this morning's ISM Milwaukee disappointment, missing for the 8th month sof the last 9 (printing 47.67 vs 50.00 exp and hovering at 2 year lows) with production and prices plunging, Chicago PMI just printed a slightly disappointing 54.4 (against expectations of 54.5). After last month's surprise bounce, this slowdown suggests there is little to no momentum in any 'recovery' stemming from a Q2 bounce. Weakness under the surface is broad and as purchasers warned "failure of New Orders to materialize "within the next few weeks" could put firms at risk of being over-inventoried and curtail producton levels." Perhaps most worrying though is the 4th consecutive contraction in employment... but the recovery?
Production and Prices plunged holding Milwaukee's ISM near 2-year lows...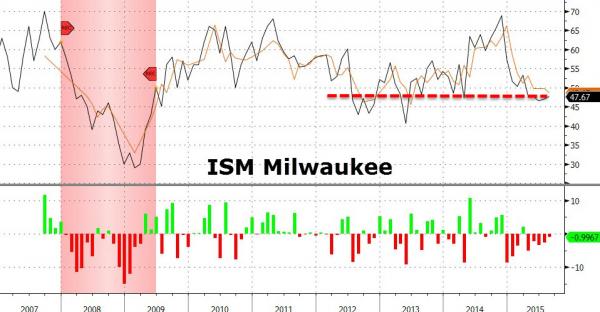 But then Chicago PMI hit...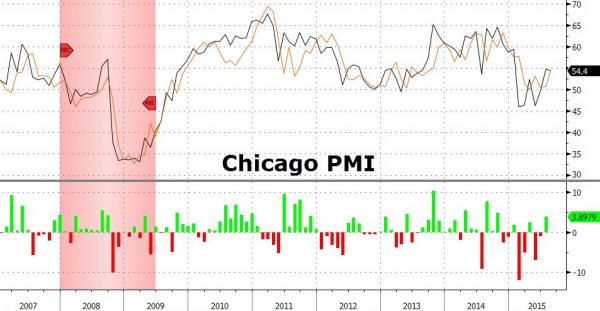 And underlying factors were weak...
MNI CHICAGO REPORT: BAROMETER 54.4 AUG VS 54.7 JUL SEASADJ
MNI CHICAGO: SUPPLIER DELIVERIES RISE TO HIGHEST SINCE MARCH
MNI CHICAGO: EMPLOYMENT UP BUT IN CONTRACTION FOR 4TH MONTH
MNI CHICAGO: PRICES PAID FALL BACK BELOW 50
MNI CHICAGO: INVENTORIES COMPONENT HIGHEST SINCE NOV 2014
MNI CHICAGO: ORDER BACKLOGS CONTRACT AT FASTER RATE
MNI CHICAGO: PRODUCTION AND NEW ORDERS EASE SLIGHTLY
Some purchasers reported enough work to keep their facilities "busy" but said that there were a lot of small orders with large orders lacking.
Judging by the market's response - it appears bad news is now bad news.
Charts: Bloomberg