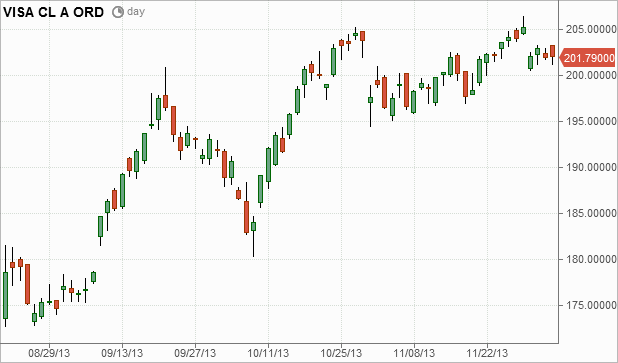 Visa Inc (V) is a global payments technology company providing its clients with fast, secure and reliable electronic payments. It generates revenue from the fees paid by its clients. A group of the following brand is managed by the company: Visa, Visa Electron, PLUS and Interlink.  Visa invests in high-growth regions of the world, in products and technology, while maintaining cost-control. Over the past 50 years Visa is engaged in development and implementation of innovative products and services. The more recent one is V.me online service, that converges the physical point of sale, e-commerce and mobile to replicate the simplicity, speed and security of a transaction like by card.
Furthermore, raising dividend per share by 21% to $0.4 announced in October was a positive decision for shareholders. The company is also buying back its shares – it announced a $5 bn share buyback program, and other purchases may follow during 2014 and FY 2015 as well.
Financial results for the fiscal year ended September 30, 2013.
The companyreleased relatively strong financial and operational results for FY2013. Processed transactions totaled 58 billion, up 10% y/y. Net operating revenue for the year was $11.8 bn, up 13% y/y due to double-digit revenue growth contributions from service, data processing and international transaction revenues. FX headwind became the main weakness of the report: it reached about 1.5% drag on revenue growth in Q4 compared to 1% for the whole year. It is expected to grow in FY2014 to about 2%.  Opex increased at a slower pace than revenues (+8% y/y mainly due to personnel, network and processing fees, D&A). Net income for FY2013 increased by 18% y/y to $ 5bn. 
Consensus target price – $223.72, short-term goal - $210.