Edwards Lifesciences Corp. EW is scheduled to report first-quarter 2016 earnings on Apr 26, after market close.
Last quarter, the company posted a positive earnings surprise of 6.78%. Edwards' earnings outpaced the Zacks Consensus Estimate in all of the past four quarters, with an average beat of 8.09%.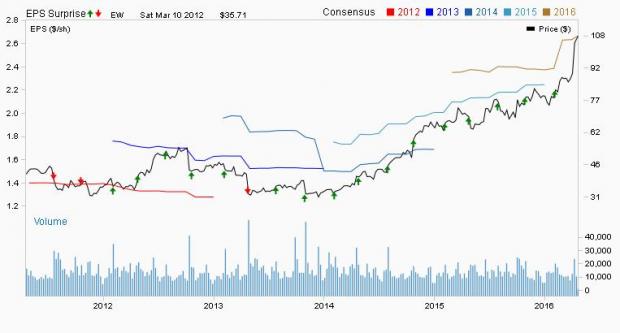 Let's see how things are shaping up prior to this announcement.
Factors at Play
For the first quarter of 2016, Edwards expects total sales of $640–$680 million and adjusted earnings per share (EPS) in the range of 64–70 cents. The current Zacks Consensus Estimate for revenues and EPS are $666 million and 66 cents, respectively, within the company's guided range.
During the entire first quarter, Edwards remained in the MedTech headlines, primarily owing to a handful of significant regulatory approvals it received for its transcatheter heart valves (THVs).
The company opened its account in mid-Jan 2016, with the receipt of the FDA go-ahead for its Sapien 3 toundergo an investigational device exemption (IDE) study – the Partner III trial. The primary endpoint of the non-inferiority, randomized Partner III trial is to evaluate the safety and efficacy of implanting Sapien 3 in elderly patients, suffering from severe, symptomatic aortic stenosis (AS), who have been identified with low mortality risk on undergoing standard surgical aortic valve replacement.
Per management, in the event of this trial exhibiting favorable results, Sapien 3 will move a step closer toward facilitating physicians to treat a broader AS patient group. This in turn will help Edwards cater to a larger customer base in the THV space.
In March, the company won the FDA approval to expand use of its Sapein XT THV for pulmonic valve replacement procedures. Next, in the same month, Edwards won the approval of the Japanese Ministry of Health, Labor and Welfare (MHLW) to market its Sapien 3 transcatheter heart valve (THV) in the country. The company plans to fully launch Sapien 3 by the end of 2016, in Japan.
To date, Edwards' Sapien 3 was available in Europe and the U.S. only. With Sapien 3's latest approval in Japan, we believe, the company will be able to fetch higher revenues for its THV business segment, based on the product's strong market potential in Japan.
With the global TAVR market estimated to be worth more than $5 billion by 2021, we believe the aforementioned regulatory approvals will allow Edwards to capture large share in this market.
Moreover, management plans to make meaningful share repurchases in 2016, which we believe will get reflected in the to-be-reported quarter's results as well. 
On the flip side, management anticipates no near-term respite from a stronger dollar on its top-line results in 2016. Based on the current exchange rates, management expects its 2016 sales to be hurt by $55 million compared to the prior year. This impact, we feel, will be reflected in the company's first-quarter results.
However, management has signed foreign exchange hedging contracts to partly mitigate the adverse impact of currency exchange.
Earnings Whispers
Our proven model does not conclusively show that Edwards is likely to beat earnings this quarter. That is because a stock needs to have both a positive Earnings ESP and a Zacks Rank #1, 2 or 3 for this to happen. That is not the case here as you will see below.
Zacks ESP:  Edwards has an earnings ESP of 0.00%.That is because both the Most Accurate estimate and the Zacks Consensus Estimate are pegged at 66 cents.
Zacks Rank: Edwards has a Zacks Rank #2 (Buy)which increases the predictive power of ESP. However, a 0.00 % ESP makes surprise prediction difficult.
We caution against stocks with a Zacks Rank #4 or 5 (Sell-rated stocks) going into the earnings announcement, especially when the company is seeing negative estimate revisions.
Stocks to Consider
Here are some companies you may want to consider as our model shows they have the right combination of elements to post an earnings beat in the upcoming quarter:  
PAREXEL International Corporation PRXL, earnings ESP of +2.25% and a Zacks Rank #1.
Gilead Sciences Inc. GILD, earnings ESP of +1.65% and a Zacks Rank #1.
Zimmer Biomet Holdings, Inc. ZBH, earnings ESP of +1.55 % and a Zacks Rank #2.
Want the latest recommendations from Zacks Investment Research? Today, you can download 7 Best Stocks for the Next 30 Days. http://www.zacks.com/registration/pfp/?ALERT=RPT_7BST_LP194&... blog">Click to get this free report >>
Want the latest recommendations from Zacks Investment Research? Today, you can download 7 Best Stocks for the Next 30 Days.
Click to get this free report
EDWARDS LIFESCI (EW): Free Stock Analysis Report
GILEAD SCIENCES (GILD): Free Stock Analysis Report
PAREXEL INTL CP (PRXL): Free Stock Analysis Report
ZIMMER BIOMET (ZBH): Free Stock Analysis Report
To read this article on Zacks.com click here.
Zacks Investment Research