Line Corp went public a few days ago becoming the largest tech IPO this year. My main concept regarding tech IPOs is the following: if the company's management has no chance to raise the venture or private equity round - the company goes public. One of the brightest examples is Box - open their most recent 10Q or 10K form and you will understand why they didn't raise a round before the IPO. Nowadays for venture investors and tech companies' founders the best way to exit the investment / company is to sell it to a strategic player. 
Line Corp is a messaging app, the key reason why they have enough audience to generate revenue flow and even go public is that this messaging app is from Japan. To be honest, I don't think that any messaging app could compete with Facebook, What's App (a part of Facebook actually) and Telegram in Europe, Latin America and the United States. Let's check Line's prospectus to get a better understanding of how they make money and if the stock is worth investing. 
Business
Line is making money from advertising as well as all other players in digital field nowadays. Company's MAU (monthly active users) metric was around 218M as of March 2016.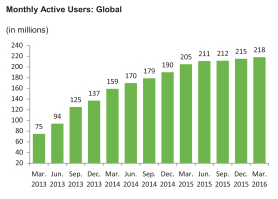 In comparison, Twitter has 310M monthly active users, popular Pokemon Go has 25M daily active users. Line has 61M MAU in Japan and 91M MAU in Thailand, Taiwan and Indonesia, so it means that 70% of users are located in 4 Asian countries. 
Financials
I always analyze the unit-economics for different tech companies, I will do the same for Line Corp as well. So according to the information in their prospectus:
average revenue per one active user in Q1 FY2016: 155 Yen or $1.38 
average revenue per one active user in Q1 FY2015: 137 Yen or $1.22
average marketing expenses per on active user in Q1 2016: 10.7 Yen or .09c
average marketing expenses per on active user in Q1 2015: 23.3 Yen or .21c
As you can see, average revenue is going up around 13%, but, marketing expenses are going down rapidly more than 50%. Payment and licensing expenses are growing as well per one active user. Analyst like their operating income which increased almost 5 times акщь 1,424M Yen to 5,338M Yen. That's a very significant move was due to marketing expenses drop. Other operating expenses increased as well:
payment processing +24% (Q1 FY2016 vs Q1 FY2015);
employee compensation +24%;
infrastructure +7%;
other operating expenses +8%.
We don't know exactly why the company cut their marketing costs and this is a main threat - perhaps they have a long-term agreement with later payout. This is a significant issue, as soon as their marketing expenses go up - their margin will narrow. I've already mentioned Box that has a huge negative margin and I don't see if the stock could climb up in close future. I'm concerned whether Line Corp creates a better picture that it really is - higher the stock will grow, lower it will fall afterwards. 
Take a look at their cash flow statement: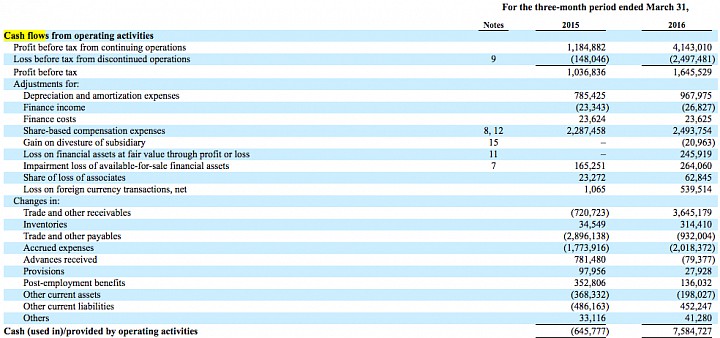 If you really like 7.5M Yen in cash provided by operating activities, take a look and trade and other receivables and trade and other payables. It looks like the company had some significant changes before the IPO. 
Summary
It's too risky to invest into Line Corp right now, I will better check out their prospectus to make it clear. Such significant changes in cash flow statement they explained by the de-consolidation of Bizth - their ex-subsidiary. If it is the only reason - then the stock will fall rapidly.