Warren Buffett is the world's wealthiest investor because he buys great stocks at fair prices, and if you're in retirement, following in his footsteps could be a savvy strategy for achieving financial security. Although you might not be able to buy all the stocks that Buffett's Berkshire Hathaway (NYSE: BRK-B) (NYSE: BRK-A) owns, a good place to start could be Bank of Americ a (NYSE: BAC) , Apple Inc . (NASDAQ: AAPL) , and Coca Cola Company (NYSE: KO) .
This bank is still a bargain
Bank of America is one of the country's biggest banks, and Warren Buffett recently said he plans to exercise warrants that will give him ownership of 700 million shares . He acquired the warrants when he bought $5 billion in Bank of America preferred securities during the great recession.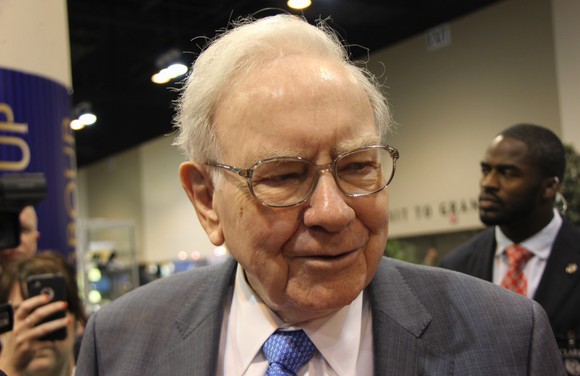 Up until now, he's been happy to sit back and collect interest on his preferred stock, but following Bank of America's decision this week to increase its dividend 60% to $0.48 per year, owning common stock has become a better bet. Once he exercises his warrants, he'll be able to pocket $36 million more in interest annually than he would collect if he kept his preferred stock instead.
No, you can't turn back the clock and get the same deal as Buffett, but there's reason why now might still be a good time to buy. Bank of America's profit on assets has been steadily improving alongside the U.S. economy, and its price-to-book (P/B) value arguably remains in bargain bin territory. Prior to the financial crisis, the P/B ratio was typically north of one, but even after a big move up, it's still below one today.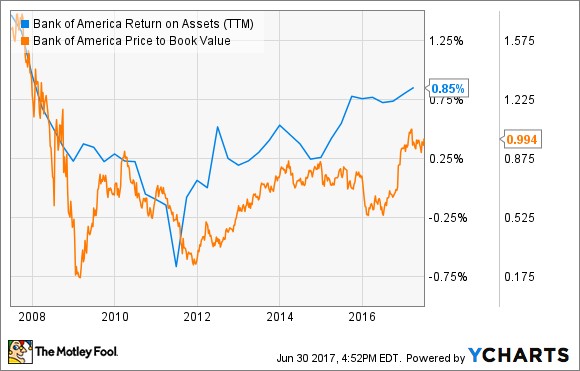 Data source: YCharts .
An expanding net interest margin should allow the bank's financial condition to continue to improve. The spread between its cost of funds and the interest rate it charges on loans has climbed to 2.71% from 2.37% in 2015, and since interest rates are still rising, net interest margin could climb even higher. Washington's focus on rolling back recession-era bank regulations also offers support to profit growth.
If you're...
More