One just has to laugh at this point.
Moments ago, the Tesla twitter feed and blog reported that the company was announcing a new car Model, the "W":
Announcing the Tesla Model W

 

Tesla today announced a whole new product line called the Model W. As many in the media predicted, it's a watch. That's what the "W" stands for.

 

This incredible new device from Tesla doesn't just tell the time, it also tells the date. What's more, it is infinitely adjustable, able to tell the time no matter where you are on Earth. Japan, Timbuktu, California, anywhere! This will change your life. Reality as you know it will never be the same.

Warning, current version requires wrist strength of an Orangutan.

 

Studies have shown the Model W will dramatically improve your health. If you work out. And it's available in platinum!

No longer will you need to rudely examine your phone to read text messages. Now you can politely stare at the tiny screen on your wrist without anyone noticing.

 

This is in no way a competitive response to what some other company is doing.
Clearly, the above was an April fool's joke as anyone who reads more than just the headline would immediately guess. The problem is that Bloomberg's fast response team did not have the time, and immediatley blasted the following:
TESLA MOTORS: ANNOUNCING TESLA MODEL W
What happened next was laughable. The algos, on massive volume, spiked TSLA stock higher by nearly 1%....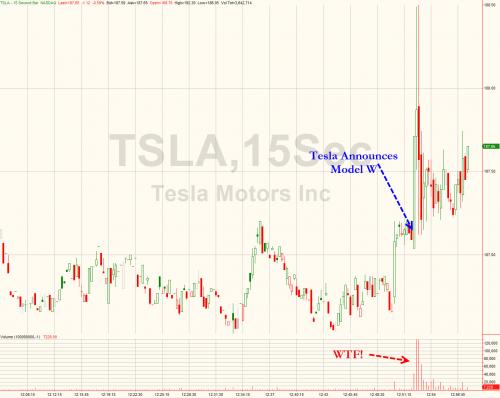 ... before realizing they all bought first, and asked questions milliseconds later by responding to a blatant, purposeful and utterly humorous, lie.
And with that we have hit a brand new "low" for this "market."