Oil prices continued to slide today as traders continue to fade the risk premium stemming from Iraq's tension. There has not been supply disturbances. Today, the market traded USD broadly higher during Janet Yellen's testimony in front of congress. She will have another session tomorrow. 
WTI Crude Oil fell below 100 briefly, tagging before bouncing back up above 100. Note in the daily chart that today's dip also tested the 200-day SMA, which is flat, and reflects a lack of trend. Because the market is NOT bearish, we can expect some support around 100, especially when the daily RSI is oversold (below 30). 
WTI Crude Oil Daily Chart 7/15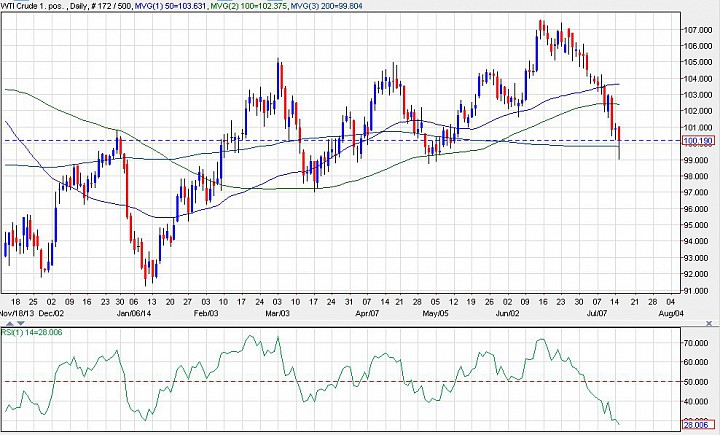 The 4H chart shows a very bearish market. You can see persistently lower highs and lower lows. That means if the next high is above 101.20 and the next low is above 99.00, WTI Crude is likely in a period of consolidation. 
WTI Crude Oil 4H Chart 7/15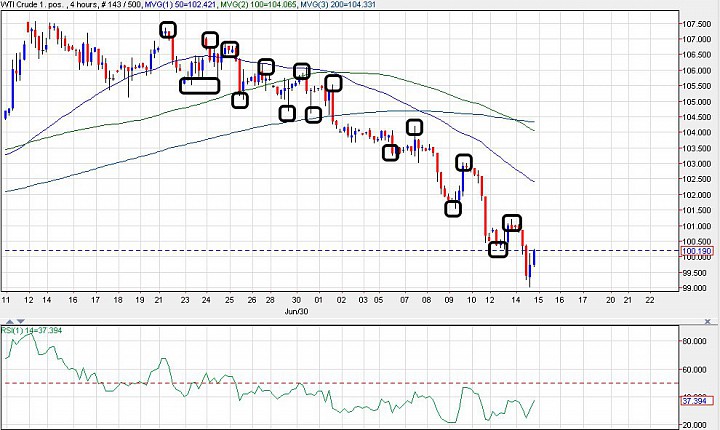 If the market does bounce off the 100 level and the 200-day SMA, traders should monitor the 102 short-support/resistance pivot. Then the 104.50-105 area represents a key common resistance area. With July's dip in such a hurry, traders might consider shorting a rally if it approaches this 104.50-105 area.