(Click picture to watch live. Note that Fox requires a cable subscription log-in)

The "main event" GOP debate isn't until 9 p.m. ET on Thursday, but for some, the anticipation surrounding Donald Trump's debate debut will be too much to handle.
For those folks, there's the so-called "undercard", which kicks of four hours earlier and should suffice as an appetizer until the Trump-sized entree is served up piping hot on Fox later this evening. The candidates below the blue cut-off point in the following chart will be participating.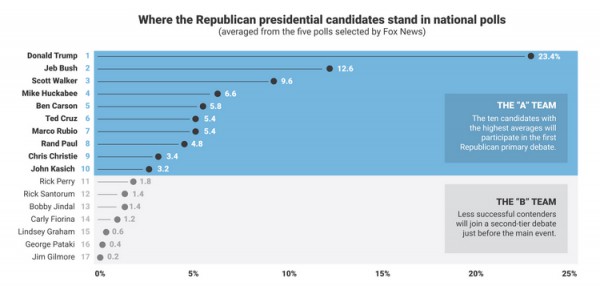 (Chart: National Journal)
And while they'll be no Donald in the "losers' debate", they'll be plenty of Rick (actually there's two of them), and for those who remember Governor Perry's famous "oops" moment, that should be enough to guarantee that the consolation round of the first Republican debates of the 2016 election cycle still provides for plenty of entertainment. 
Here's a preview from Politico:
How can you not feel a little bit sorry for Rick Perry? Arguably the most successful governor—certainly the longest serving—of a major state crucial to whatever presidential electoral prospects the GOP has left, and he's relegated to the losers' round of the 2016 debates, a forum undoubtedly sponsored by Tyrion Lannister and the Bad News Bears.

 

But the former Texas governor is not alone.  An impressive array of talent will be alongside him, trying to pretend that they don't feel like the kid picked last for the dodge ball team.  (Some people still haven't gotten over it these days—but we try.) 

 

There's the only woman in the race, and one of the few with practical business experience that does not include firing Dennis Rodman on TV: Carly Fiorina. There's Gov. Bobby Jindal, another accomplished governor and a onetime top-tier vice presidential contender whose staunch conservatism and moving son-of-immigrants story should stand out in a political party that's knocked for being whiter than a Kenny Rogers concert in Vermont.  And next to him will be Sen. Lindsey Graham,  a seasoned legislator and John McCain clone, joined by his now famous cellphone and his bizarre Bill-Clinton-wishes-he'd-thought-of-that rotating first lady proposal. 

 

Then there's Rick Santorum, a finalist in 2012, who is about a point away from former Virginia Governor Jim Gilmore, whose poll numbers for the moment suggest he'd have a hard time beating Bill Cosby.  And let's not forget New York's George Pataki—one of the few if not the only Republican ever elected statewide in New York since the invention of the iPhone. No, there's nothing to be embarrassed about by being in this crowd.

 

 

Meanwhile in the "winners circle" are two guys who've never worked a single day in public office, a senator who wears baseball uniforms to display his qualifications for the White House and a former governor best known these days for writing about his yo-yo dieting and his love of gravy (I think there may be a connection there.)

 
As you can see from the following graphic, the difference between making the prime time debate versus the "dinner time" version came down to the thinnest of margins for some participants: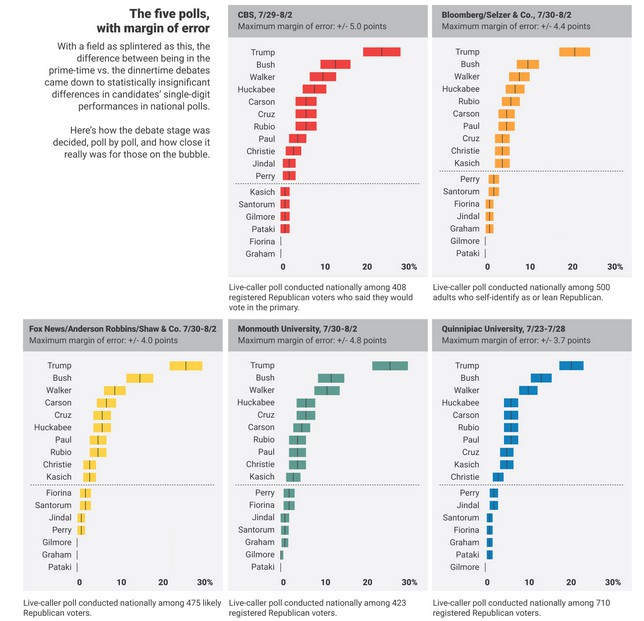 (Graphic: National Journal)
*  *  *
Bonus: "Oops"