Amazon.com Inc (NASDAQ:AMZN) Stock Faces Resistance.
Shares of Seattle, Washington-based Amazon.com Inc (NASDAQ:AMZN) have corrected quite a bit since the company reported its second quarter earnings late last month. AMZN stock has declined in value by nearly $100 a share, falling below key moving averages, like the 20 day Simple Moving Average (SMA) and the 50 day SMA. Amazon has rarely breached its 50 day SMA in the past year, and when it has, the moving average has served as a support, with the stock rebounding in quick time. The stock has now closed lower than the 50 day SMA for two days in a row, and is facing strong resistance from the moving average. If Amazon stock doesn't manage to climb back above the 50 day SMA today, the stock may continue to trade flat or correct further, given the negative bias seen in the Moving Average Convergence Divergence (MACD).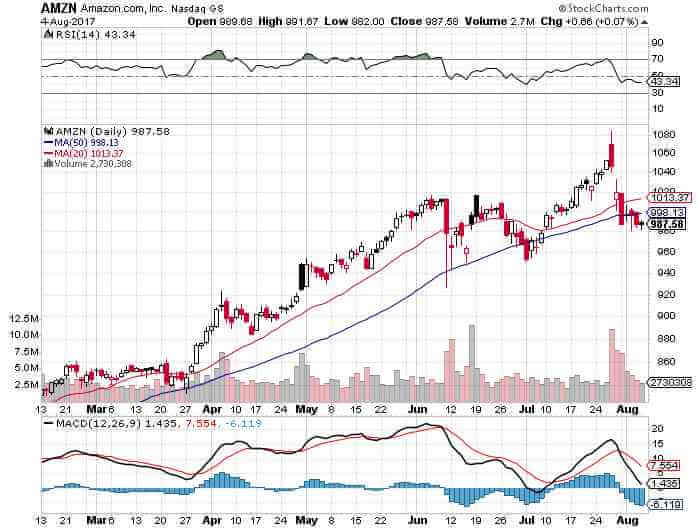 Amazon missed second quarter earnings estimates, which led to the big correction. And given that the stock is still up by over 31% for the year, don't be surprised if you see it falling further. However, we're bullish on Amazon stock in the long term. Amazon's lending and advertising businesses look set to drive both top and bottom line numbers, potentially driving Amazon past a $1 trillion...
More