Fiserv Inc.'s FISV third-quarter 2017 adjusted earnings of $1.27 per share missed the Zacks Consensus Estimate of $1.30. However, it improved 11.4% from the year-ago quarter.
Total revenue increased 1.4% year over year to $1.40 billion but missed the Zacks Consensus Estimate of $1.45 billion. Adjusted revenues grew 2% year over year to $1.34 billion.
Segment-wise, Payments and Industry Products adjusted revenues increased 4.6% year over year to $733 million. Financial Institution Services adjusted revenues were down 0.8% year over year to $619 million.
Internal revenues rose 2% owing to 3% growth in Payments segments while the financial segment was flat.
Source-wise, total Processing and services revenues increased 3.4% on a year-over-year basis to $1.199 billion while Product revenues decreased 8.6% year over year to $201 million.
Fiserv's DNA platform added nine clients in the third quarter, bringing the total number of signed DNA clients so far this year to 20. Notably, management stated that five DNA clients went live this quarter, of which two have over $1 billion in assets. Mobiliti ASP subscribers grew over 20% to 6.4 million.
The company achieved $22 million in savings in the quarter, which brings the total savings to $62 million in the first nine months of 2017. The figure is already $2 million ahead of management's full-year savings expectation and is driven by workforce optimization and progress in procurement.
Notably, shares of Fiserv have gained 21.8% year to date, underperforming the industry's 33.5% rally.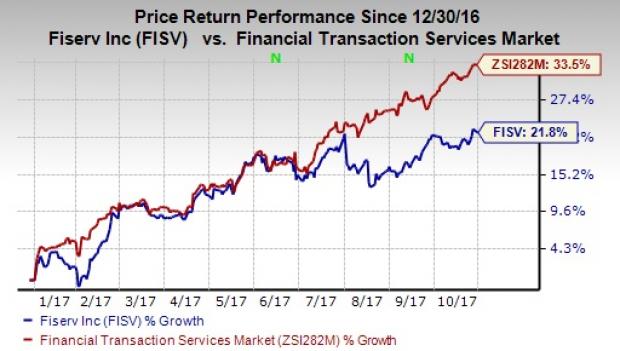 Margins
Adjusted operating income increased 1.4% from the year-ago quarter to $435 million. The company's adjusted operating margin of 32.6% decreased 20 basis points (bps) on a year-over-year basis.
Other Financial Details
As of Sep 30, 2017, Fiserv had cash and cash equivalents of $325 million compared with $299 million as on Jun 30, 2017. Long-term debt at quarter-end was $5.02 billion.
Fiserv's cash from operating activities for the nine months ended Sep 30, 2017 was $1.015 billion compared with $1.042 billion in the year-ago period. The company's free cash flow increased to $819 million from $747 million in the year-ago period.
Fiserv bought back 2.4 million shares for $298 million in the quarter. Fiserv had 12.2 million shares remaining for buyback as of Sep 30, 2017.
Guidance
The company revised its outlook for 2017. Fiserv now expects adjusted earnings per share to come in the range of $5.05–$5.12, compared with the prior guidance of $5.03–$5.17, representing growth of 14%–16% year over year.
Adjusted internal revenue growth is projected to be 4% compared with the earlier range of 4%–5%.
Fiserv, Inc. Price, Consensus and EPS Surprise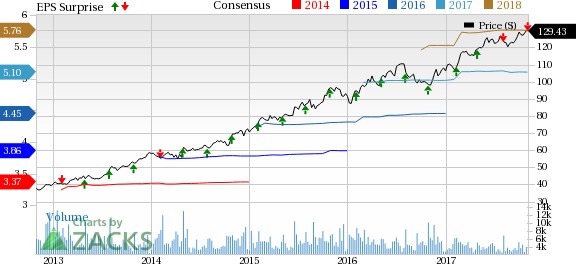 Fiserv, Inc. Price, Consensus and EPS Surprise | Fiserv, Inc. Quote
Our Take
Fiserv's financial and payment solutions business is backed by a broad customer base and key contract wins. Additionally, the strong user base of Mobiliti ASP remains a major growth driver. The company remains focused on expanding its product portfolio.
Fiserv completed the acquisitions of Monitise, PCLender and Dovetail Group in the third quarter. The product-oriented acquisitions are expected to further enhance its clientele in the United States as well as in the international markets.
Monitise's cloud-based FINKit platform, which gained significance in a short span of time following its launch in fiscal 2016, will be a growth driver for the company going ahead.
Fiserv's digital banking solutions are also gaining momentum among banks and credit unions. Investment in digital-oriented technologies is likely to improve its competitiveness.
Fiserv expects revenues from solutions like DNA and Zelle to drive growth. Further, the company's new five-year cost cutting program is also likely to prove beneficial.
However, lower termination fees, EMV deferral and adverse foreign currency translations are negatively impacting the company's sales.
Additionally, Fiserv's policy of acquiring a large number of companies results in some integration risk. The company's highly leveraged balance sheet will continue to weigh on its profitability.
Moreover, intensifying competition from Fidelity National Information Services Inc. FIS remains a concern.
Zacks Rank & Stocks to Consider
Fiserv carries Zacks Rank #4 (Sell).
Better-ranked stocks in the broader technology sector are Lam Research Corporation LRCX and Micron Technology Inc. MU, both sporting a Zacks Rank #1 (Strong Buy). You can see the complete list of today's Zacks #1 Rank stocks here.
Long-term earnings growth for Lam Research and Micron is projected to be 14.9% and 10%, respectively.
More Stock News: This Is Bigger than the iPhone!
It could become the mother of all technological revolutions. Apple sold a mere 1 billion iPhones in 10 years but a new breakthrough is expected to generate more than 27 billion devices in just 3 years, creating a $1.7 trillion market.
Zacks has just released a Special Report that spotlights this fast-emerging phenomenon and 6 tickers for taking advantage of it. If you don't buy now, you may kick yourself in 2020.
Click here for the 6 trades >>
Want the latest recommendations from Zacks Investment Research? Today, you can download 7 Best Stocks for the Next 30 Days.
Click to get this free report
Micron Technology, Inc. (MU): Free Stock Analysis Report
Lam Research Corporation (LRCX): Free Stock Analysis Report
Fidelity National Information Services, Inc. (FIS): Free Stock Analysis Report
Fiserv, Inc. (FISV): Free Stock Analysis Report
To read this article on Zacks.com click here.
Zacks Investment Research