Brazil's economy probably contracted in the second quarter by the most since the global financial crisis as President Dilma Rousseff struggles to revive growth before October's national elections.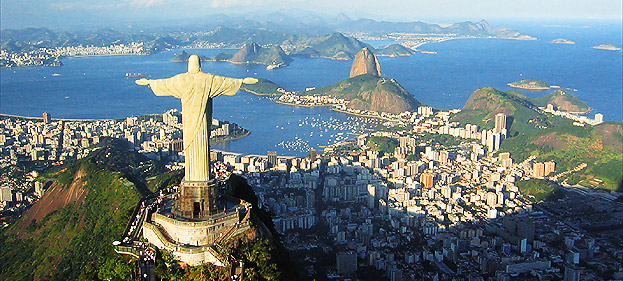 Gross domestic product shrank by 0.4 percent in the April-June period, following 0.2 percent growth during the first quarter, according to the median forecast from 42 economists surveyed by Bloomberg. The statistics institute is scheduled to release its GDP report at 9 a.m.
Rousseff's efforts to spark growth through tax cuts, billions of dollars in credit and higher social spending have failed to gain traction, as estimates of expansion this year continue to tumble. Less than two months before elections, the economy has been stalled by falling consumer confidence and shrinking industrial output. The central bank has signaled plans to hold the key rate at the highest level in more than two years as inflation persists above target even as demand eases.
"We had three months of a harsh slowdown," Sergio Vale, chief economist at MB Associados and the most accurate Brazil GDP forecaster according to data compiled by Bloomberg, said by phone. "In economic terms, 2014 is a year to be forgotten."
Economic pessimism and fewer working days during the World Cup mean second-quarter investments probably plunged 12.6 percent from a year ago, Vale said. Industrial sentiment has hovered near record lows, while consumer confidence remains on par with levels seen in the 2009 financial crisis.
'Severe Policy'
Finance Minister Guido Mantega said yesterday the economy will accelerate next year as the government adopts a tighter budget, allowing the central to ease the "severe" monetary policy it implemented to slow inflation.
Industrial output in June contracted for the fourth consecutive month on declines in capital and consumer durable goods. Retail sales in the same month unexpectedly fell the most in more than two years as fewer appliances and pieces of furniture left stores.
Rousseff's administration has tried to stem the slowdown through a 679 billion reais ($303 billion) program to develop Brazil's infrastructure and oil reserves, payroll tax cuts worth billions and pledges of higher social spending. The central bank twice in the past month lowered capital requirements to spur lending, saying the measures would increase the availability of credit without fanning inflation.
2015 Growth
Still, economists in the latest central bank survey expect growth in the world's second-largest emerging market to moderate to 0.7 this year from 2.5 percent in 2013. The analysts have cut their estimate for 13 straight weeks to the lowest since Brazil contracted in 2009. Economists surveyed by Bloomberg forecast 0.9 percent growth, the least among Latin American peers after Argentina andVenezuela.
The economy will expand 3 percent in 2015, Mantega said yesterday. Faster world growth and slower inflation will contribute to the acceleration.
Marfrig (MRFG3) Global Foods SA is among companies facing challenges amid Brazil's slowdown. The Brazilian meat producer expects its domestic margins to weaken on the combination of a weaker economy and faster inflation, Chief Executive Officer Sergio Rial told reporters in Sao Paulo on Aug. 13.
"There has been a deterioration in economic fundamentals," Newton Rosa, chief economist at Sul America Investimentos, said by phone. "Inflation is high and persistent. Business confidence levels reflect that."
Key Rate
The central bank on July 16 kept the benchmark interest rate unchanged at 11 percent for the second straight meeting after lifting the key rate by 375 basis points in the year through April. Brazil has the highest benchmark borrowing costs among rate-setting nations in the Group of 20.
"We will make an effort on the spending side to deliver a wider primary surplus, giving more room for a more flexible monetary policy," Mantega told reporters yesterday.
Consumer price increases in the year through mid-August reached 6.49 percent as monthly prices rose by the least in 13 months. Brazil's central bank targets annual inflation at 4.5 percent, plus or minus two percentage points.
Prices will slow to target if borrowing costs are kept steady, central bank President Alexandre Tombini told a Senate hearing on Aug. 5. Inflation is under control and will end this year within the official target range, he said.
Rousseff has seen her political backing undermined by the deteriorating economy, as two polls this week showed for the first time that her re-election bid would fail.
Election Poll
Former Environment Minister Marina Silva would win 45 percent of voters' support in an Oct. 26 runoff against Rousseff, who would garner 36 percent, according to an Ibope poll published on Aug. 26. The survey questioned 2,506 people on Aug. 23-25 and had a margin of error of plus or minus two percentage points.
Silva has 43.7 percent support, 5.9 percentage points more than Rousseff in an Aug. 21-24 MDA survey published Aug. 27, which has a margin of error of plus or minus 2.2 percentage points.
A 56-year-old former rubber tapper and dishwasher who made a name fighting deforestation in the Amazon, Silva upended the October election after replacing Eduardo Campos, who died in a plane crash on Aug. 13.
For Carlos Kawall, chief economist at Banco J. Safra and former treasury secretary in Brazil, the economy will represent a focal point of political debate in the roughly five weeks that remain before the vote.
"The economy has stagnated," Kawall said by phone. "It will generate headlines."