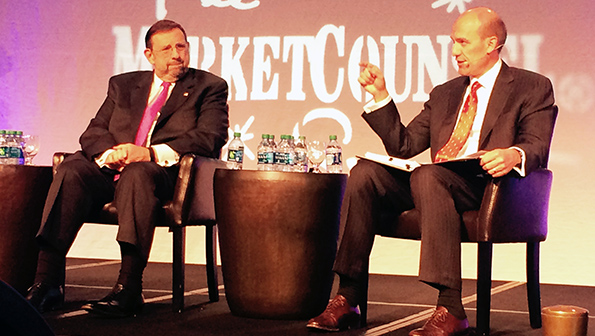 The shindig opened with a salute to immortal Fontainebleau guests as RIAs themselves indulged in dreams of destiny.
Mass numbers
Bicknell, CEO of Mariner Holdings, which includes Mariner Wealth Advisors and Montage Investment, also agreed in an interview that $100 billion of AUM is not a pie-in-the-sky target and that it may get gathered from investors formerly considered throwbacks by RIAs and wirehouses. Therefore, he thinks the greatest potential for growth is in the mass-affluent offering he started in 2013 in conjunction with Fidelity Investments, FirstPoint Partners, LLC.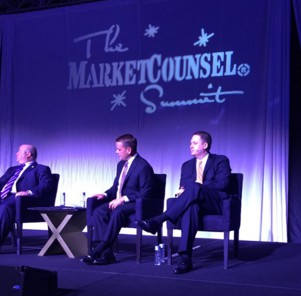 Shirl Penney [r., with with Marty
Bicknell]: Fifty billion is not the
goal. $100 billion is the goal.

"Its started more slowly than we thought but I still firmly believe will be the largest partner firm on the wealth side," he said. See: Marty Bicknell and Fidelity enter into the mother of all cross-RIA referral deals. Currently it has about $200 million of assets.
Carson alludes to how the next tens of billions are likely to be gathered under a new value proposition in terms of fees, user experience and delivery of service. See: Selling your value proposition.
"We are attracting assets with value added experiences and layers that creates a sustainable edge — a better experience and value beyond a doubt. I wouldn't be surprised to see asset management fees drop to 15 to 20 bps in five to 10 years." See: Why exactly is Ron Carson forming an RIA and why is it happening now?.
Stage two
Such unbridled optimism should not be bridled by forthright admissions that how exactly RIAs intend to get to that first $100 billion are still being ironed out.
Tibergien, who is CEO of Pershing Advisor Solutions and a student of practice management, said confusion and confidence are constructively compatible.
He compared the trajectory of RIA growth cycle to that of the accounting industry and its 30 year lifecycle as: "wonder, blunder, thunder and plunder."
"We are in blunder now, with some of the firms here in the thunder stage — but eventually the lifecycle will repeat itself and the industry will regenerate in a better form." See: Eavesdropping on the Moss Adams workshop: How big and broadly owned your firm should be.
Unprompted, Carson agreed with this paradoxical sentiment by stipulating that the RIA business is in its latest iteration of "creative destruction" similar to what the telecoms experienced before getting us to the iPhone, and how Uber has disrupted the taxi industry.
Destiny in our hands
Of course, telecoms were, and Uber is now, beset with legal and regulatory issues.
RIAs are, too, with the political will an issue, according to Andrew Wels, chief regulatory counsel at MarketCounsel.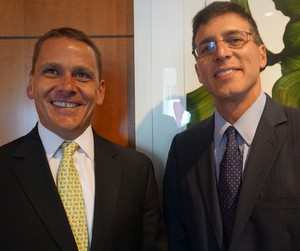 What Bicknell [l.] is cooking up
with David Canter may constitute the
biggest tranche of Mariner Holdings assets
longer-term.
"We control our own destiny, the legal framework to do [an RIA SRO] exists," he told the crowd in Miami Beach. "We need to create a model to organize and lobby, and include credible means to regulate ourselves. Lawmakers are looking for ways to cut SEC budget – SRO helps with that." See: 401(k) advisors get a lobbying voice in Washington.
Sen. Spencer Bachus decried the current state of the SEC.
"From a statutory standpoint, the DOL has no jurisdiction and the SEC is the primary securities regulator; they need to be more aggressive in defending their turf." See: Spencer Bachus's amazing turnabout from RIA villain to white knight and the miserable state of Dodd Frank's advancement of fiduciary care.
SEC Inspector General David Kotz added his voice to the amen choir: "That's exactly right; I don't know that DOL got that memo."
Bachus went on to add: "The current administration is behind this of course — wouldn't be shocked to see something soon [on the Fiduciary Standard]".
Both agreed that competence and experience at both the SEC and FINRA wasn't where they needed to be. See: Obama makes 'really unfortunate' appointment of Elisse Walter as new SEC chairman.
'Warm on people'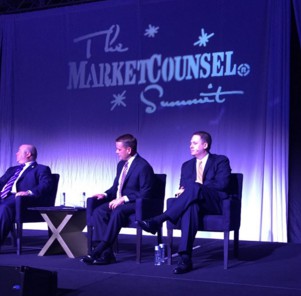 Marty Bicknell and Shirl Penney:
If there was one theme that seemed to creep in and around every major session it was the necessity of establishing the right culture.
Culture was the centerpiece of a revealing session in which Penney, Bicknell and Andy Putterman, formerly of Fortigent LLC and Hamburger spoke at length on the topic.
Bicknell attributed much of his success in finding the right people to create great Mariner culture to buying low — on people.
"During the 2008-'09 debacle, the opportunity to attract talent and resources was never better and our high-quality people environment allowed them some place to run to. Look for those opportunities in volatility and chaos to go out and take advantage when everyone else has stuck their head in the sand."
In a discussion on management styles, Penney described his philosophy as "warm on people – cold on numbers."
In closing, Andy Putterman stated that when it comes to employees "I learned a long time ago — without a good corporate culture [malcontents] infect everyone else — no matter how good a worker they are." See:Nine pitfalls for advisors to avoid when taking on new employees.
Advisors in motion
Another innovative panel brought together recruiters — Ryan Shanks, Danny Sarch, Mindy Diamond lobbing questions to the custodial heads Bob Oros of Fidelity Institutional Wealth Services, Bill Van Law of Raymond James Financial Inc., Tibergien of Pershing Advisor Solutions and Andy Kalbaugh managing director and president of LPL Financial — LPL Financial.
Oros cautioned that "going Independent means everything changes — if you are interested in finding the next client you are not a CEO. Best to identify and stay in your swim lanes."
Basking in the glory of being mentioned as a partner by three of the four panelists, Jason Carroll, managing director of Live Oak Bank, cautioned advisors not to assume the RIA movement is made up only of breakaways. See: A palpable camaraderie accrues in Boston as FPA provides support group for lonely CFPs and the atomized niche firms that serve them.
"Wirehouses only make up 15% of our loans, 65% are acquisition and succession. Advisors are in motion in general — they are changing platforms and comparing for their best fit."
Dark clouds at the picnic
There was anxious exhibit hall chatter about rising interest rates as a duration risk to advisors with fixed income holdings, especially in the context of recent regulatory notices on this specific topic.
"Knowing what you own within a fund is always a good idea and bond funds often hold very long dated securities to generate yield and income…we are now seeing advisors trade out of long duration funds in favor of individual bonds" noted Chris Genovese, executive vice president at Advisors Asset Management.
Raj Udeshi, co-founder of HiddenLevers suggested advisors take a look at utility stocks as a bond alternative since "they behave like bonds as a safe, yield play, except they are not boring. These macro stories are exciting, look who is benefitting from the oil crash? I haven't seen my bill go down." See: Advisor Tested: HiddenLevers roots out hidden connections between world events and client portfolios.
Tools as … tools
Technology companies dominated the exhibit hall and provided a wide array of solutions, but a common theme was an understanding that software is only part of their solution.
"It remains our view that most CRM systems have an interface that only the mother of a database technician could love. After all these years of CRM implementations, the industry needs to stop blaming advisors for not being 'tech savvy'" stated John Rourke of WealthBox CRM. See: How one RIA's faith in Salesforce's sophistication led to cut-and-paste hell and a major rethinking.David Lyon, CEO of Oranj, took a more sanguine view. "Software really is not about the features, it's about benefits by putting the advisor front and center — not replaced. There have traditionally been a lot of back office and operations technology — now it about the client experience." See: In bed with giants, T3 software entrepreneurs go to Florida to swear they are still more independent than thou.
Rob Klapprodt, president of Vestmark agreed saying: "Nowadays its less about the technology and more about how we market and deliver, especially on the support model."
Brian Stimpfl, Scottrade Advisor Services's head of the RIA business, also expressed restrained enthusiasm for technology.
"We need to be tuned in to the right mix of functions of tech which is different for every advisor. It can be the great equalizer for smaller firms, and the great enabler for larger firms."
With the launch of their latest RIA study and some recent promotions including Stimpfl himself— Scottrade seems to be indicating a renewed focus on the space after several years of relative quiet. See: Scottrade proclaims itself the 'compliance custodian,' partnering with RIA In a Box and staffing a hotline with ex-regulators.
Aging gracefully
Penney beamed like a proud papa as he described the launch of Dynasty Desktop with its many capabilities and integrations but which, interestingly, eschews existing front-end legacy offerings of Salesforce and eMoney in favor of a "strategy to build the iPad of the industry and integrator of experience."
Penney said Dynasty's stated turf as an "integrated platform service company" has taken a large step forward with its expansion of regional offices in Chicago and San Francisco. See: How exactly five ex-Barclays advisors and one analyst across three time zones combined to make a $3 billion RIA.
At Tuesday's opening session, RIA stars were treated to a video homage to past Fontainebleau guests including featuring Sammy Davis Jr., Elvis Presley, Frank Sinatra and Sean Connery. The video's big finish featured MarketCounsel CEO Brian Hamburger spoofing Tony Soprano, which elicited snarky tweets from the journalists in the front row — perhaps the only way to communicate as they were deafened by the supercharged sound system — a recurring theme throughout the conference.
But as long as RIAs stay amid the pulsing electrical currents, good things are bound to happen, according to Dan Sievert, CEO ofECHELON Partners.
"As long as advisors strive to be better in all parts of their service, if they do this well – bigger will come more naturally and gracefully."