What You'll Learn
Walter Schloss' performance record vs Buffet

Walter Schloss on his investment philosophy

Walter Schloss on buying stocks

Walter Schloss on selling stocks
I've shown you how small investors can beat the professionals on Wall Street by not playing with the same rules.
Walter Schloss was such a man.
OK… well he was a professional, but not in the normal sense.
He didn't play by Wall Street rules. He took the unorthodox route of ignoring news, ignoring tips, sticking to cigar butts and holding thousands of stocks over his lifetime.
The result?
Here's a table view. Unfortunately, data is only available up to Q1 of 1984.
Over this period of 28 and a quarter years, the Schloss partnership returned a staggering 21% CAGR.
Just to show you how good he was, here's a side by side of Walter Schloss' performance against Buffett and the S&P over their overlapping periods.
What's impressive about both Schloss and Buffett is their ability to have a good year even when the market was down.
(You can also see why Buffett is a legend. His performance speaks for itself. Sure there are lots of ups and downs, but even in his "down" years are still positive.)
Look at the chart and it proves that you can do well independent of the market.
Now what's most impressive about Walter Schloss' record is that he didn't have a college degree.
So how did he do it?
Well let's get into his brain and find out based on the many quotes I've scoured from the internet.
The Schloss Investing Approach – Quick Summary
Philosophy and Style
Investors are best served using a Benjamin Graham value approach, looking for stocks that are hitting new lows and those trading at a price lower than their book value per share.
Universe of Stocks
Stocks are selected from among well-known "Campbell Soup" companies. Exclude foreign stocks and those in industries with which the investor is unfamiliar.
Criteria for Initial Consideration
Ten-year track record
No long-term debt
A low price-to-book-value ratio
A stock at or near its 52-week low price
High insider ownership
Portfolio Construction
Limit holding of one stock to no more than 20% of entire portfolio
Well-diversified portfolio of up to 100 stocks
Holdings weighted based on their perceived values, putting less money in positions the investor is less sure about
Use limit orders to purchase stocks
Stock Monitoring and When to Sell
In general, try for a 50% profit from any holding before selling. If a stock's price is falling and the company's fundamentals are sound, buy more.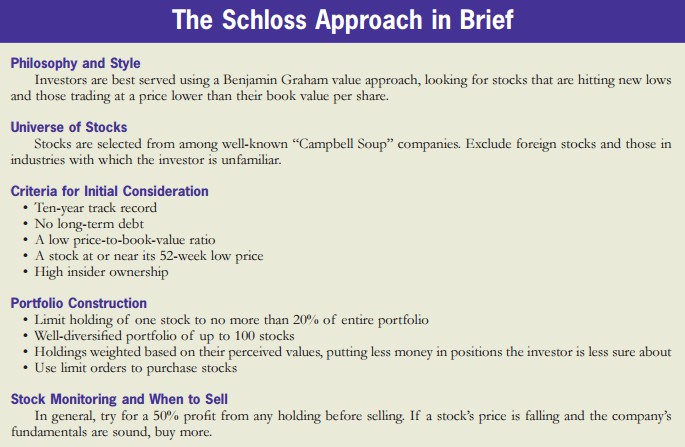 Walter Schloss on His Investment Philosophy
Keep things clear and simple. There's no need to chase complicated stocks or situations if you don't understand it.
When it comes to investing, my suggestion is to first understand your strengths and weaknesses, and then devise a simple strategy so that you can sleep at night.

I don't like stress and prefer to avoid it, I never focus too much on market news and economic data. They always worry investors.

You have to invest the way that's comfortable for you.

Try not to let your emotions affect your judgment. Fear and greed are probably the worst emotions to have in connection with the purchase and sale of stocks.

I think investing...
More