Bank of America Corp. is starting to see faint signs of an economic recovery in Russia.
The magnitude of a slowdown in capital investment is easing, while corporate profits have been increasing, a combination that Vladimir Osakovskiy, the bank's chief economist in Moscow, said could mark a turning point. The country's recession may have bottomed when gross domestic product shrank 4.6 percent in the second quarter, and considering that company spending will probably drive the recovery, that stabilization is likely to be more important for the broader economy than persistent weakness in consumer demand, he wrote in a report last week.
"Corporate profits in Russia are quite good year-to-date, and we look at robust growth in corporate profits as the main potential driver of stabilization and recovery in the near future," Osakovskiy said by phone from Moscow last week. "We might see that the main macroeconomic indicators will start to improve on a year-over-year basis later this year, but we obviously have to wait until the increase in corporate profits spills over to the pickup in investment."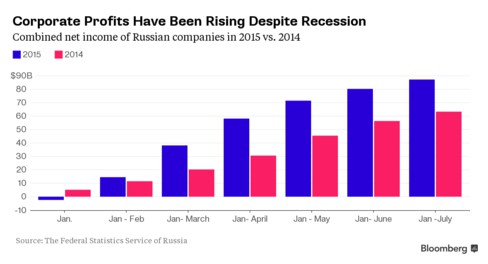 Corporate profits increased 43 percent in the first half of 2015 compared with a year earlier and grew 38 percent from January to July, even as oil plunged further into a bear market, data from the Federal Statistics Service show. That means companies might soon look to use capital to focus on...
More