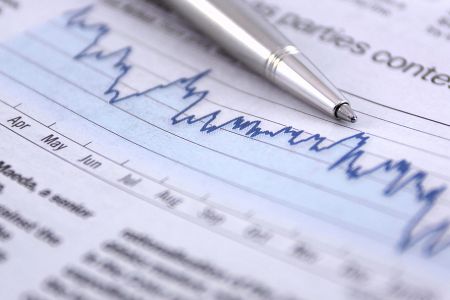 Days of supply of Oil hits the highest level in over 30 years.
**NEW** As part of the ongoing process to offer new and up-to-date information regarding seasonal and technical investing, we are adding a section to the daily reports that details the stocks that are entering their period of seasonal strength, based on average historical start dates.   Stocks highlighted are for information purposes only and should not be considered as advice to purchase or to sell mentioned securities.   As always, the use of technical and fundamental analysis is encouraged in order to fine tune entry and exit points to average seasonal trends.
Stocks Entering Period of Seasonal Strength Today: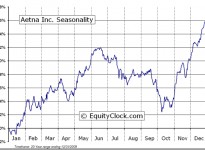 The Markets
Stocks ended firmly higher on Wednesday, led by the financial sector as investors viewed the FOMC announcement as hawkish, potentially allowing for a rate hike before the year is over.  The Fed left rates unchanged after its latest policy meeting and highlighted the objectives that it continues to seek in order to raise rates at its next meeting.  Those objectives include the progress towards maximum employment and two percent inflation.  Looking at the 5-year breakeven inflation rate as a gauge for inflation expectations, the rate has been consolidating over the past two months around 1.2%, seemingly attempting to build positive momentum for an upside move.  The long-term trend for inflation expectations remains negative, but a near-term move to the upside is becoming increasingly probable, particularly with the recent bounce in commodity prices.  Significant improvement remains necessary to put inflation expectations back on track towards the Fed's 2% target.  Unfortunately, other than the fact that many commodity prices remain deeply depressed, there is little to fundamentally support commodity prices.  From significant excess supply of oil, to the rising long-term trend of the US Dollar, to waning manufacturing demand, a number of factors are working against any upside momentum for commodities.   Even the Baltic Dry Index, which measures the cost of moving major raw materials by sea, is on the decline again after hitting resistance in August.  Lack of demand to move raw materials equates to lower prices to ship the goods.  A trend of lower-lows and lower-highs remains intact.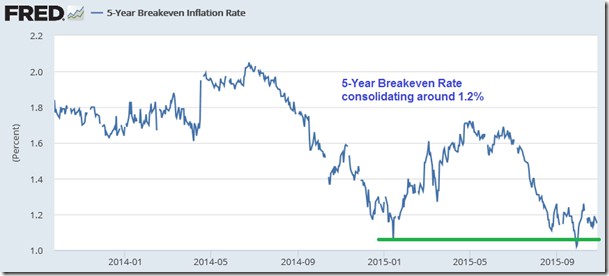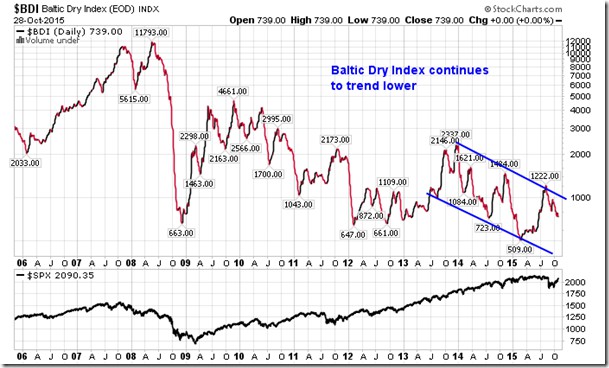 Despite the negative fundamental factors, a number of commodities ended firmly higher on Wednesday, particularly energy commodities, which were unfazed by Wednesday's oil inventory report.  The price of WTI Crude closed higher by 6.41%, even as the Energy Information Administration reported a 3.4 Million barrel build in inventories in the most recent week.  The days of supply of oil now sits at 31.1, the highest level since 1984.  Although the pace of supply gains slowed somewhat in the recent week, the trend in the days of supply remains firmly higher, suggesting the risk of cracking the all-time high at 34.2 days realized in 1983.  Back then, the price of oil fell from a high of around $32 in 1983 to a low of $10 in 1986, representing a decline of almost 70% from peak to trough.  Looking forward, days of supply of oil typically reaches a short-term peak by mid-November, ahead of the busy travel season related to the end of year holidays.   As well, refineries are slowly getting back online after transitioning from summer to winter blend gasoline, which will lead to further processing of crude oil in the weeks ahead.   The commodity appears to have found a tradable low around $42, at least for now; the price of gasoline appears to be charting a double bottom low around $1.26.  Might be best to consider filling up your tanks if you're running close to empty.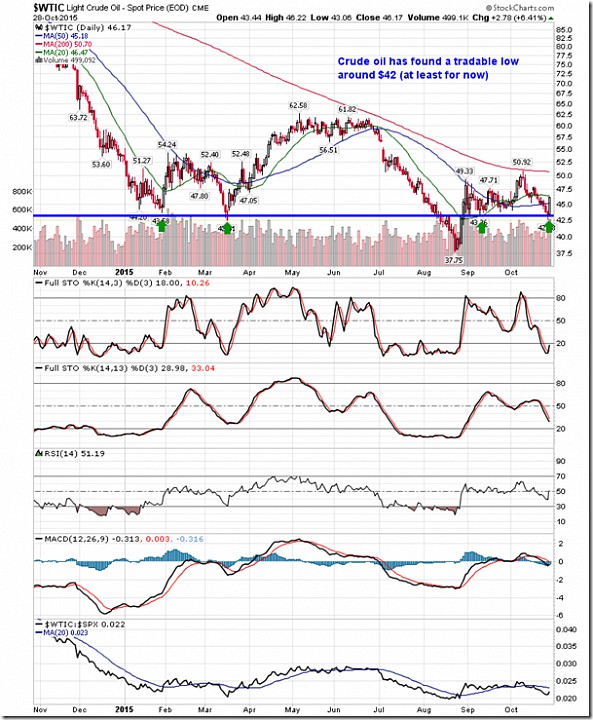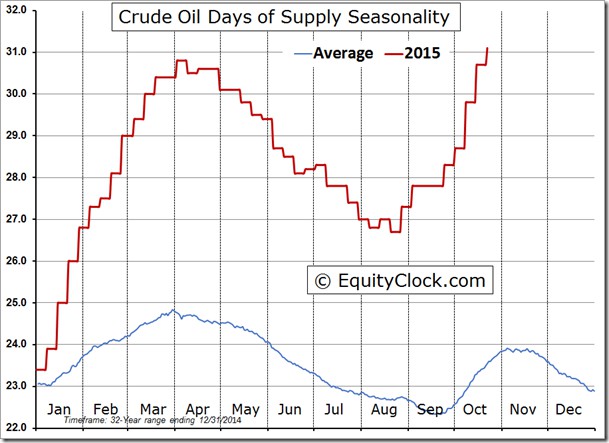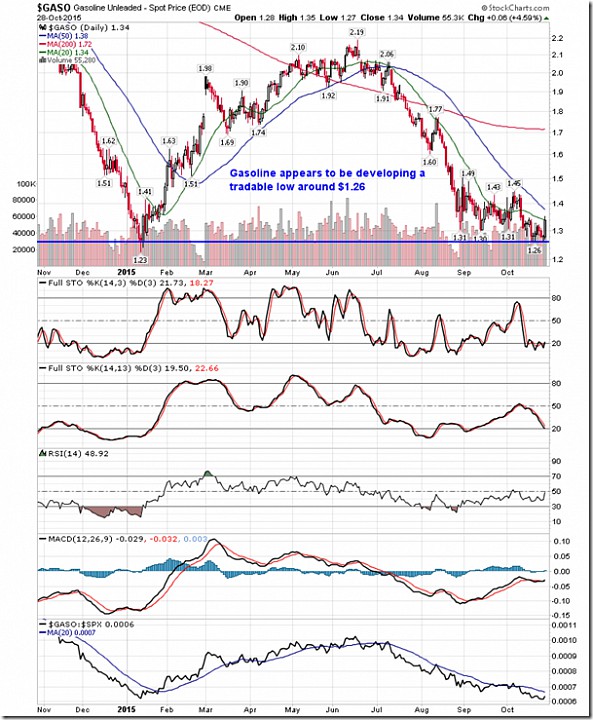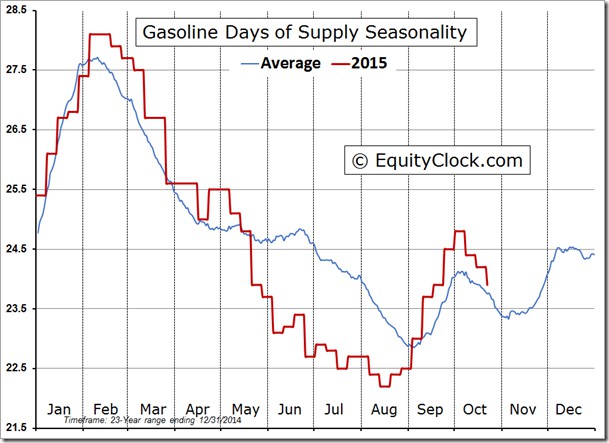 Sentiment on Wednesday, as gauged by the put-call ratio, ended bullish at 0.77.
Seasonal charts of companies reporting earnings today:
 
For the rest of the charts of companies reporting earnings today, click here.
S&P 500 Index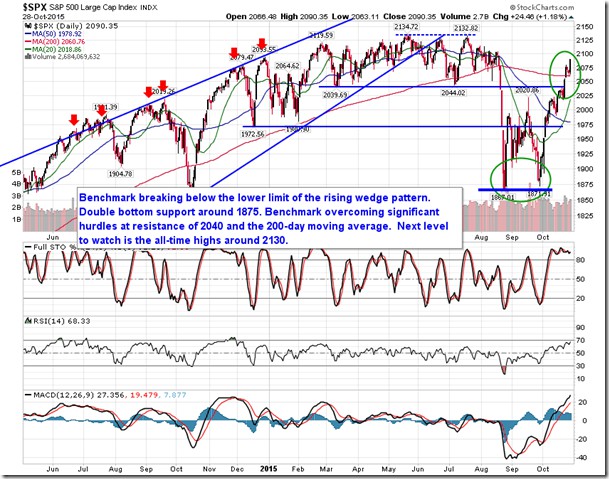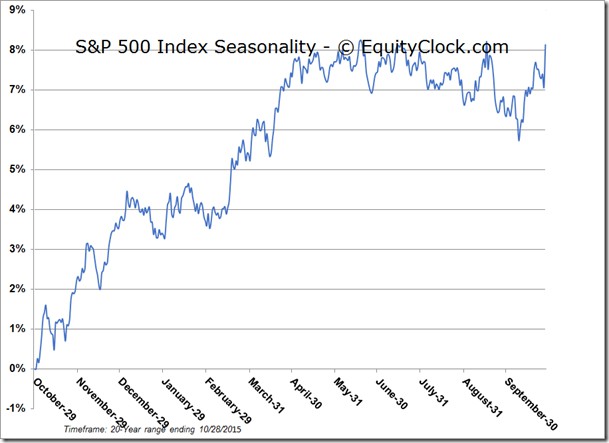 TSE Composite