By Gal Goldring 
Fast food giants McDonald's Corporation (NYSE:MCD) and Chipotle Mexican Grill, Inc. (NYSE:CMG) are expected to report quarterly earning this week. In anticipation of the results, analysts are weighing in on these stocks with projected outcomes. While one analyst's outlook is neutral for McDonalds, Chipotle was able to generate a more bullish standpoint. See how the risk/reward benefits and expense cutting efforts have affected these popular stocks.
McDonald's Corporation
The world's largest restaurant company, McDonald's, is anticipating another solid report in its Q1 earnings, which will be released on April 22 before market open. In light of the release, Baird analyst David Tarantino weighed in on the stock, reiterating a Neutral rating with a $122 price target. The analyst expects the company to post EPS of $1.17, in-line with the overall consensus of $1.16.
The analyst notes he has good expectations for the company's Q1 results, an optimistic view that the company can sustain healthy growth in 2017, and a positive view of MCD's improving operating fundamentals. However, Tarantino notes that in spite of this, valuation metrics are near 15-year highs on an absolute and relative basis with investor expectations being high. Because of this, he considers the near term risk/reward on the stock fairly balanced, leading him to his cautious rating. Tarantino explains, "Our rating reflects a positive view of MCD's improving operating momentum, tempered by valuation. While we have become increasingly confident in the fundamental outlook, we also think current valuation metrics already are discounting a fairly positive scenario." The analyst mentions that as a result, "we prefer to wait for a better entry point before adopting a more constructive near-term stance on the stock."
Tarantino goes on to explain that MCD has reorganized its structure into four segments, which is intended to create a "leaner approach that combines markets with similar growth characteristics." Namely, making growth possible, creating better industry dynamics, curating a powerful international brand with more franchising, and returning cash to shareholders. In spite of these strong goals, the analyst notes some risks and caveats, including competition, economic factors, health or dietary concerns, franchise operations, currency exchange, input costs, and growth management.
According to TipRanks, 60% of analysts covering the fast food giant are bullish, 35% are neutral, and 5% are bearish. The average price target for the stock is $130.57 with an upside of 2.18%. David Tarantino is ranked #715 out of 3,878 analysts on TipRanks, and has an average success rate of 51% with a 7.3% average return.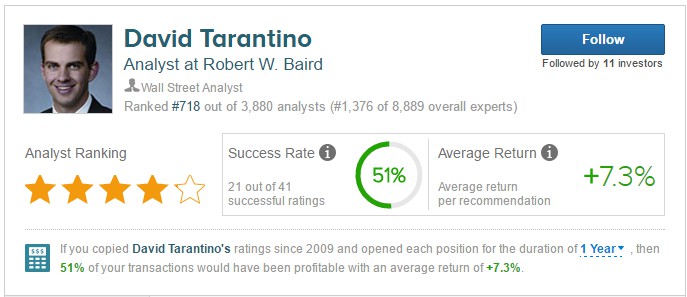 Chipotle Mexican Grill, Inc.
The fast casual Mexican restaurant chain is expected to report first quarter earnings on April 26 after marker close. The company pre-announced 1Q16 on March 16, shifting focus towards the trajectory of sales and margins for the second quarter. Credit Suisse analyst Jason West has weighed in on Chipotle, shedding light on same-store-sales expectations, or SSS, and margin forecasts into the second quarter. West reiterates an Outperform rating with a price target of $550. For the upcoming earnings report, he is projecting an EPS loss of $(1.06) and a 29% year-over-year decline in SSS.
Chipotle's recent sales have been marred by several novo virus outbreaks linked to its restaurants around the country. As a result, it is no surprise that SSS metrics will take a beating despite the company's aggressive efforts to get customers back into stores and regain their trust. Consequently, the analyst models a 10% decline in Chipotle's margins in 1Q16 due to SSS deleverage, marketing expenses, promo expenses, food safety investment, and food waste and labor inefficiency.
Going forward into the second quarter, West notes a sharp improvement from his 1Q forecasts, modeling 2Q SSS at "-18% with restaurant-level margin 17.4%." These forecasts are rather high, but according to West, they are achievable. West does admit however, that he would not call his outlook "conservative." The analyst comments, "Our 2Q forecast assumes -20% SSS in April, with the Easter shift and improving consumer sentiment driving the acceleration from March (CSe -25%). SSS need to improve to approx. -17% in May/June for CMG to stay on track with our outlook." West believes the combination of reduced SSS deleverage and lower marketing/promo expense will promote a much better margin in 2Q relative to 1Q. He explains, "We expect CMG to guide 2Q restaurant margins to the ~mid-to-high teens when the company reports 1Q results."
The analyst wraps up, "Overall, CMG's recovery is unlikely to be linear, and near-term trends remain very weak on an absolute basis. However, we remain confident that CMG's earnings power will show signs of recovery as we move through 2016, causing investors to return to the stock."
According to TipRanks, 37% of analysts are bullish on CMG, 41% are neutral, and 22% are bearish. The average price target is $479.25 with an upside of 2.12%.  Jason West is ranked #174 out of 3,878 analysts on TipRanks, and has a 71% success rate with an average return of 12.3%.